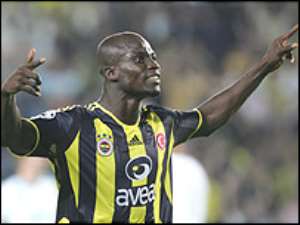 Scottish PSL Champions Celtic are reportedly closing in on $11m rated Fenerbahce midfielder Stephen Appiah according to the Sun newspaper in the UK.
Myghanafootball.com will update visitors to this site on the situation plus below....OTHER TRANSFER NEWS culled from the BBC Tottenham boss Martin Jol says they would not sell striker Dimitar Berbatov for £40m. (The Sun)
Real Madrid will make a £20m bid this summer for Chelsea defender Ricardo Carvalho. (Daily Star)
Liverpool skipper Steven Gerrard is to pledge the rest of his career to the club for £6m a year. (The Sun)
Champions League hero Daniel Agger is also set to be rewarded with a new contract. (Daily Mirror)
Portsmouth manager Harry Redknapp is ready to smash their transfer record with a £7m swoop for Tottenham's Jermain Defoe. (Daily Star)
Manchester United manager Sir Alex Ferguson wants £20m England defender Micah Richards. (Daily Mirror)
Matthew Upson has given West Ham a massive boost by agreeing to stay even if they are relegated. (The Sun)
Albert Luque is to end his Newcastle hell by joining PSV on loan. (The Sun)
The Premiership's big spenders are on alert after Alan Pardew admitted Darren Bent is for sale. (Daily Star)
Charlton will also sell defender Luke Young if they go down. (Daily Express)
Rangers star Nacho Novo is determined to prove he has a long-term future at the club. (Daily Record)
Birmingham manger Steve Bruce is to run the rule over Hibernian stars Steven Whittaker, Steven Fletcher and David Murphy. (The Express)
Dundee and St Johnstone are battling it out to sign Port Vale striker Nathan Lowndes. (The Express)
OTHER GOSSIP
Property tycoon Simon Morris has emerged as a possible bidder for cash-strapped Leeds. (The Daily Telegraph)
AC Milan midfielder Rino Gattuso has wound up Champions League final opponents Liverpool by telling them they are not as good as Manchester United. (The Sun)
Fulham will host a four-club summit today in a bid to bring joint legal action against the Premier League over West Ham's points deduction let-off. (The Sun)
The Premier League is facing a mutiny after six clubs snubbed peace talks aimed at preventing court action over West Ham's punishment. (Daily Star)
Wigan chairman Dave Whelan says the bottom six clubs are preparing a £70m lawsuit. (Daily Express)
Chelsea confirmed Andriy Shevchenko missed their Champions League clash against Liverpool with a groin injury. (The Sun)
The Football League will get an £80m injection over the next three years in a new deal to spread the TV riches of the Premiership. (Daily Mirror)
Paul Ince wants Les Ferdinand as his number two if he takes over at Leicester. (Daily Mirror)
Reading director of football Nick Hammond is being considered by Arsene Wenger as a replacement for David Dein at Arsenal. (The Guardian)
Graham Rix and Craig Brewster have been eliminated from the shortlist of managers to take over at First Division side Livingston. (The Herald).
AND FINALLY...
Patrice Evra asked to be housed near a church when he joined Manchester United so that he could "give thanks that he was able to play for the best club in the world each week". (Daily Express)
Former England skipper David Beckham, who celebrated his 32nd birthday on Thursday, has thanked Simon Fuller for fixing him up with his wife Victoria. (The Sun)
Former Liverpool striker Milan Baros has been banned for three games for pretending that an opponent smelled. (Daily Mirror)