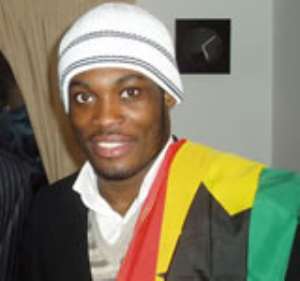 Chelsea star Michael Essien has said an independent test taken after his arrest last week clears him of drink-driving.The 24-year-old footballer was arrested on suspicion of drink-driving after he was pulled over by police on the Old Kent Road in south London last Monday.
The Ghanaian midfielder, who was driving a Range Rover, has said he wants to publicly clear his name.
Scotland Yard said the footballer remains on bail as they have not yet seen the results of their tests.
Following his arrest, police took blood samples but results could take up to six weeks to come back.
Essien's legal team arranged for a private blood test to be taken.
The footballer said just two and a half hours after his arrest officers allowed him to drive home.
He said he wants to clear his name because he does not want young football followers to think he would behave irresponsibly.
He said he was happy to help the police after being arrested and even signed autographs for some of the officers' children.
'Role models'
He said: "I would never drink and drive and I am glad the blood test results came back and confirmed that I was not over the limit.
"The people close to me know that I don't really drink anyway but I certainly would never be so irresponsible as to put my own and other people's lives at risk.
"I am very aware also that footballers are role models to a lot of young kids and I take that seriously so would not want any kids to think that I would behave in an irresponsible way.
"That is why I wanted to clear my name and make sure people know I am a responsible person and was not over the limit."
He said the story has caused a lot of upset to his mother and family in Ghana.
"It is important to me that people write the truth - that I was not over the limit," he said.