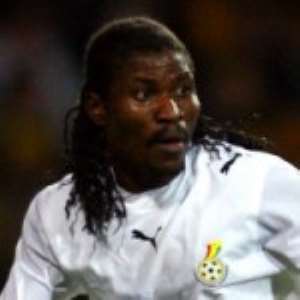 HEARTS star Laryea Kingston reckons nothing will stop him playing for Barcelona - even crazed fans desperate to take his life.The Ghana midfielder has revealed how supporters in his homeland tried to kill him after he made a switch six years ago between rival clubs in the capital, Accra.
He reckons it was the African equivalent of moving between the Old Firm but he refused to buckle under the strain.
Instead, it has strengthened his resolve to play for the Catalan giants and he is determined to achieve his career ambition within three years.
Kingston, 26, signed for the Jambos from Lokomotiv Moscow during the January transfer window and Vladimir Romanov has the chance to make the loan move permanent in the summer.
Kingston loves life and football in the SPL, although thankfully partisan Scots don't come close to Ghanaians for their fervour towards their favourite players.
He revealed all in the latest edition of Russia's Sports magazine and recalled his most frightening moment when asked about the support Scottish fans show for their teams.
He said: "They are extremely passionate. They love football and they pack out the stadiums for every match. They are very fierce in their support.
"However, they are not as fierce as in Ghana. There, the fans are completely crazy. I moved from Olympics to Hearts of Oak and, for Ghana, it was like a player going from Celtic to Rangers.
"There were people who wanted to kill me - seriously. They destroyed my car and I was being threatened for several months. I can't imagine that happening in Scotland.
"It's going very well in Scotland. The country is great and the football is great. I've fitted into the league here very well. In every game but one I've been named man of the match.
I adore English football - wherever I've played, I've always watched the Premiership on TV. What's more, when I was at Krylia Sovietov and at other Russian clubs, I was always being told I played with an English style and that I would play a lot better there.
"Now I can say they were right. After all, Scotland is almost the same as England - long balls, a fast tempo and a combative style of play.
"The only difference is there are fewer star players in Scotland but, aside from that, it's the same."
Kingston kick-started his professional career with Olympics a decade ago before moving to Hearts of Oak in 2001. He has also enjoyed spells in Saudia Arabia and Israel.
He moved to Russia two years ago to join Kyrlia Sovietov in the city of Samora and also played with Terek Grozny, switching to Lokomotiv last year.
It has been a roundabout route to the top but Kingston says there are still a few more twists and turns before he gets to where he really wants to be - the Nou Camp.
He said: "I've not changed my plans, not at all. I'm still playing, I'm in good form and I'm trying to work towards that dream - Barcelona.
"Many years ago I promised myself before the end of my football career I'd play for the best team in the best league.
I am working very hard to achieve that and asking God to help me.
"Of course, I can't say exactly when it will happen but I'm convinced that by 2010, or maybe a year earlier, I'll be playing for a superclub. That is the deadline I've set myself."
Kingston has won many admirers in Scotland for his combative approach and he has added creativity to the centre of the park for the Euro-chasing Jambos.
His aggressive approach didn't always find favour in the Russian league but he feels much more at home in the British game where his old nickname, the Samora Pitbull, has been dropped in favour of a more Scottish term of reference.
Kingston said: "They call me 'wee man'. I'mnot very tall, much shorter than the other players in the team.
However, it's virtually impossible to floor me so the name is meant as a sign of respect.
"I can't change the way I play. I can be very hard on the pitch but I don't have any difficulty playing more calmly - it all depends on the opposition.
"Those who callme aggressive are right - as a defensive midfielder you have to do the work of three players.
Look at Makalele - he's a workhorse and an assassin rolled into one."
Kingston has also shrugged off criticism club that owner Romanov floods his team with Lithuanians to the detriment of the club's short and long-term ambitions. Asked how it feels to be in the middle of the colony, Kingston said: "Completely normal.
They are excellent guys and excellent players. Our president hasn't just brought in countrymen for the sake of it. He has only bought the best ones.
"They are great players. The best, for me, is Marius Zaliukas, our central defender. He is a like a brick wall."
Kingston courted controversy soon after his arrival when he was sent off at Aberdeen for two yellow cards - then compounded the felony by accusing referee Steve Conroy of being a racist.
He was banned for two games and faces an SFA disciplinary committee on Tuesday when he could be served with a further suspension.
Kingston later apologised for his remarks and revealed he had been on the receiving end of racism during his time in Russia, even from teammates including, he alleges, Lokomotiv star Vadim Evseev.
Kingston added: "I encountered racism only once or twice in Russia.
Evseev used to say some vile things to me during training. But I don't want to go into any more detail as I've got nothing against him.
"On another occasion there was a player at Zenit St Petersburg who shouted some racist words at me. My Russian was good enough to understand what was being said. I communicate in Russian with the Lithuanians at Hearts."
Despite his bust-up with Conroy, Kingston insists British officials are among the best he has come across.
He said: "The referees are very different from those in Russia. British referees are more relaxed."