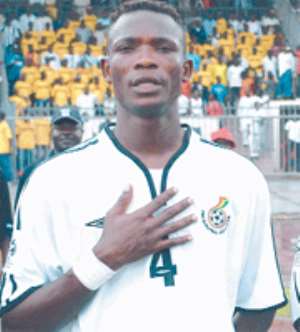 The Management of Berekum Arsenal is set on a collision course with Israeli side Maccabi Tel Aviv over the transfer of West Ham and Black Stars defender, John Paintsil.
Chairman of the club, Alhaji Yakubu Moro, told the Graphic Sports in an interview at the Berekum Golden City Park after Arsenal beat Kotoko 2-0 in their Onetouch sponsored premiership penultimate tie last Sunday that Maccabi Tel Aviv have given his team a raw deal in the transfer of Paintsil to West Ham in the English Premiership.
"We transfered the player to Maccabi for a fee of $150,000 with a contractual clause of 20% onward transfer fee to Arsenal, but we have not received our 20% as agreed on the transfer of the player to West Ham", he said.
"Maccabi Tel Aviv paid us the $150,000 in three instalments of $50,000 and right after that we realised that the player was playing for Hapoel Tel Aviv, and when we enquired of our 20% with the understanding that the player had been transferred, Maccabi told us the player had been loaned to Hapoel", Alhaji Yakubu explained.
He said he called West Ham about the transfer agreement between them and Hapoel over the player after explaining that Berekum Arsenal were the original owners of the player, "but we were told by West Ham that Hapoel explained that they owned the player because they had purchased him outright from Maccabi".
"I quickly called Maccabi to find out what was going on but they would not answer my calls, neither have they responded to my numerous letters sent to them so far," he added.
"All of these make me think that Maccabi want to pull a fast one on Arsenal and we will not let them cheat us. We have asked our lawyer, Kwame Ntow-Fiako, and Mr Ashford Tettey-Oku to commence a legal procedure against Maccabi through FIFA to ensure that we secure our 20% onward transfer on the player", Alhaji Yakubu revealed.
On the game itself, Alhaji Yakubu said, "We deserve the victory, I told the whole world that we would beat Kotoko because we had since 2004 had a 100% record at home".
He said prominent individuals and institutions have promised to support the club in their African campaign to justify the fact that it was not by chance that prominent players like Kwasi Owusu, Dan Owusu, Agyemang Gyau, Atta Kwame, Adade Fofie and Baba Yara hailed from the Brong Ahafo Region to make great impact on football in the country".
Preview by Andy Quao