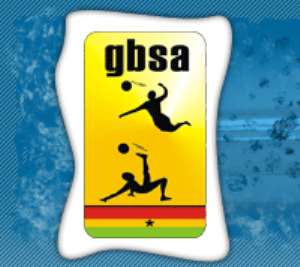 The All Stars Beach Soccer Club captained by former Ghana national player Nii Odartey Lamptey, when they beat Miracle Stars 6-5 on penalty to win Ghana's first Beach Soccer Tournament proved the Ghanaian adage, which loosely translated means, "You may be smart but I've been around much longer" true.
The team, which included other Ghanaian soccer greats Augustine Arhinful, Mohammed Gargo, Charles Boateng and Mohammed Polo, proved their moniker when they beat the more youthful Miracle Stars by one goal to pick up the trophy.
Miracle Stars were however no push over, their youthful exuberance gave All Stars a run for their soccer experience.
They set the goals rolling and matched All Stars goal to goal until their final penalty kick which missed the net.
The main game ended 4-4, moved into a two-minute extra time, which produced no goals and finally a penalty shootout, which brought the scores to 6-5 against Miracle Stars.
Miracle stars may have lost the game but they may well be the team to beat in future beach soccer tournaments in Ghana.
The two-day Beach Sports Tournament was held at the La beach in Accra (probably Ghana's most popular beach) and for a "first", turn out was impressive.
The weather was pleasant except for a mini tsunami (on the second day) that threatened to flood the sports arena.
There were exhibitions of other beach sports; beach volleyball and beach netball but Ghana being the soccer crazy nation that she is, beach soccer was the shoe piece event.
Besides the "Djama" groups (local cheer groups) acrobats and martial artists who dished out plenty entertainment, the soccer matches were in themselves entertaining and turned somewhat comical when players and officials alike transported the rules of traditional soccer onto the beach.
Official beach soccer Icon Marcel Desailly also graced the tournament with his presence.
The crowning of the beach soccer champions yesterday, brought to fruition the brainchild of former BBC Sports presenter (now head of sports at Metro TV) Yaw Ampofo Ankrah, through the Ghana Beach Sports Association of which he is an executive member.
Many others played their own soccer matches on the fringes of the tournament; perhaps a sign that beach sports has come to stay in Ghana.