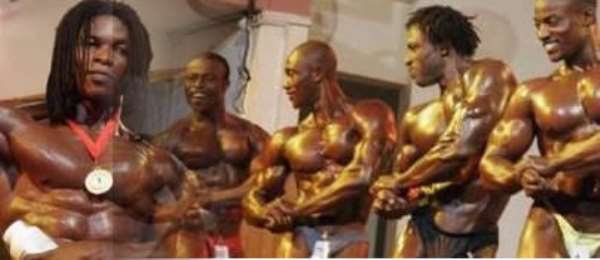 Samuel 'OBUOR' Asante muscled his way through 21 well-built contestants to reign supreme in the 2006 Man Ghana contest at the Osu Presby Hall last Friday.
The 31-year-old dread-locked heavy weight contestant from Tema demonstrated exceptional front double bisects and side chest muscle from start to finish.
His well cut designed contoured body placed him miles ahead of his compatriots, and even before the Judges came out with their verdict, it was common knowledge among the audience that Asante was ahead.
Not only did he emerge as the overall winner of the competition, he extended his dominance to stand tall in the heavyweight category as well.
At the last stage of the well-attended competition, his next to non-triangular upper body placed his opponent, Arnold Aryee deep into his shadows.
The King of the night in an interview after the show said that: "This is the beginning of good things to come, and I am not going to relent on my oars, I will plunge deeper into training to soar higher in the sport."
The King of the night won the 1993 'Mr. Tema' contest and was runners-up to Richard 'Dallas' Eshun in the 2001 Man Ghana contest.
For his effort, Asante took home a giant trophy, a glittering medal, a certificate and food supplement.
Mustapha Richardson, who doubled as the most muscular, trailed Asante and Cornelius Ankrah followed in that order.
Arnold Aryee clinched the ultimate prize in the middleweight division beating defending champion, Christopher Antoh a.k.a. King Sabato, while Eric Abbiew placed third. It was Sabato's par excellence dance pose that drew thunderous applause and screams from the crowd when he perfectly blended stage art with Ofori Amposah's 'Broken Heart'.
By that splendid entertainment show, 'Show' as he is popularly referred to, went home with the best dance pose award.
The most behaved award went to Joe Agyeman, while first timer, Eric M. finished winning the new discovery award.
Victor Agbodo emerged as the automatic winner in the lightweight division.