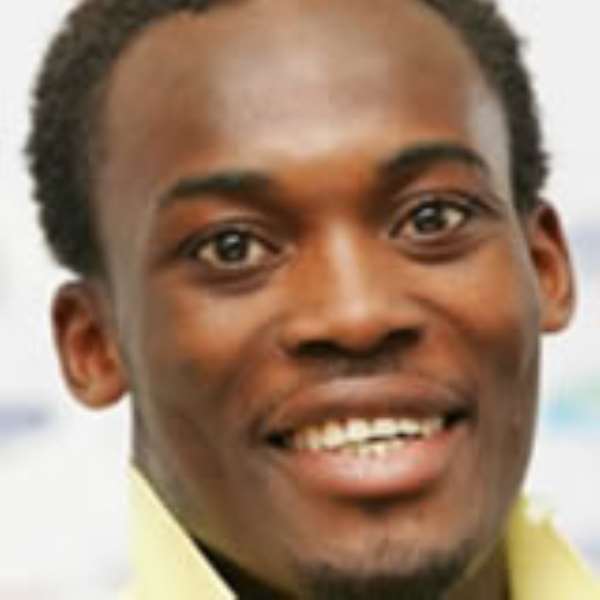 Michael Essien
In what can only be described as a very unusual and to some, even funny threat, the manager of a fast food joint in West London Opoku Agyei has warned female fans who want to 'trap' his idol to expect devasting consequences.Michael Essien has fought a lot of pitch battles in his football career and the player told me that it comes with the territory."
Some battles i win others i don't"Now it seems the "BISSON" may have to take a back seat and watch as his growing legion of fans take up the latest fight on his behalf. But is there any truth in the latest report of harrassment of Black Stars player?
It was 12:25 am and the Black Stars team hotel in Heathrow was a buzz of activity with foreign journalists,friends and family of the players and officials relaxing after Ghana's 1-1 draw with Australia.
I counted no less than 35 young ladies very well dressed(some with very little on).But there were also a group of 'die hard supporters' who claim thet were there to protect Essien and the other stars from trouble. Led by the fast food operator, the UK based fans of the Chelsea midfielder have voved to 'deal' with anyone who threatens the Ghanaian super star and his team mates in any way.
So what is your mission i asked "They want to destroy Essien and some of the other players and we will stop them" Dressed in his pin-stripped suit,i mistook Mr Opoku Agyei for a player's agent.
"You see, i have been in the shadows but my boys (he was surrounded by a group of about 8 neatly dressed young men) have been monitoring everything since Germany 2006."
Some other onlookers were not convinced "people are just making up stories to tarnish the players good names" was one challenge. Another supporter claims he an ederly woman wanted the room number of a player becuase "i have a very important message for him" These reports are hard to verify but the calls keep getting louder and louder.
Among other claims, Mr Opoku Agyei says some girls have been sent to destroy the team with bad luck and he now has enough evidence to go public. When i challenged him to produce his evidence?
"my friend the time will come....we will let the whole world know but we want to make sure we have gathered all the evidence we need before we strike"
So where was Essien and co? The midfielder was taking it easy with team mates Sulley Muntari and Asamoah Gyan in a quiet corner of the Hotel.
Captain Appiah only briefly took a stroll downstairs to sign autographs and was not seen again.
The players did not comment on the issue and it would appear they are treating the matter with a pinch of salt. Most of them are big and smart enough to know when a lady wants more than just an autograph to take home and show Mum and Dad.
Meanwhile myghanafootball.com will soon come out with the findings of an ongoing investigation into complaints by concerned Black Stars supporters that female fans have been deliberately sent to "neutralize" some players.