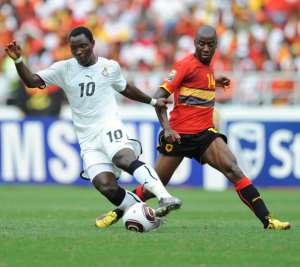 Kwadwo Asamoah has revealed his decision to stop wearing the No. 10 jersey during his days with the Black Stars.
The former Juventus and Inter Milan used to wear the No.20 but he was handed the No.10 jersey based on the recommendation of former captain Stephen Appiah.
However, Asamoah reverted to No.20 after briefly wearing the No.10.
The decision sparked rumors and speculations about a spiritual attack forcing him to abandon the No.10.
"You know I have been hearing this story for a very long time," Asamoah, who recently retired from active football told Kumasi-based Pure FM.
"I don't know the kind of person who brought out this story because I never had any conversation with anyone that I've been having dreams of someone chasing about the jersey. I don't know where that story came out from.
"I'm making it clear I never had any dreams like that. I just told them that I don't want the jersey anymore. I want to change it back to my No. 20. So it wasn't like someone was chasing me," he added.
Kwadwo Asamoah made 74 appearances and scored four times for the Black Stars.