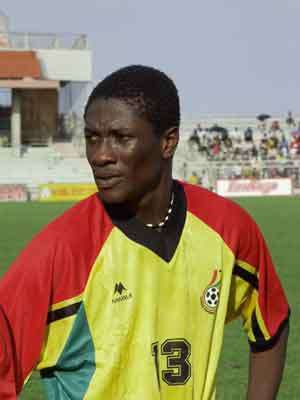 In Italy, Asamoah Gyan is considered to be still on a learning curve. In 2004, he began an apprenticeship with Serie B side Modena to acquaint himself with the rigours of top-flight football.
Yet at international level the 20-year-old is already blazing a trail for himself, and has demonstrated that he is learning fast. Gyan has hit five goals for Ghana this year and is now angling for a starting berth in the Black Stars' line-up when they make their bow at the FIFA World Cup™ finals in Germany next summer.
The striker's well-earned reputation as a consummate goalscorer is being enhanced with each passing game. Perhaps this was most clearly illustrated when Ghana returned to action in November, playing their first friendly after securing qualification, against Saudi Arabia in Jeddah. Ghana, who had left most of their name players out! of the match, stormed to a 3-1 triumph with Gyan the author of a sensational brace. The following day, local newspapers ran headlines such as: "No Essien, No Appiah, No Problem" with reference to the morale-boosting victory.
"It's going to get even better for us," Gyan asserted just days after his 20th birthday on 22 November. For the moment, that certainly seems to be the case. During his first season on loan at Modena, Gyan found the net seven times. This term, he netted three goals in his first eight games. His rapid development will be welcomed as good news at Udinese, the club who farmed him out for regular action and where he is due to return next season.
For the 20-year-old j! ust to play seems a perennial delight. He is the archetypal solid West African striker, combining pace with a killer finish and the physical strength to hold his own even against the most unyielding defences. All these qualities augur well for the future.
Another attribute is his appetite to perform under pressure on the big stage - his goal record is testament to that. With the countdown to the FIFA World Cup now under way, Gyan's ambition and confidence is running high. "We have two big tournaments coming in Egypt at the African Nations Cup (in January) and then the World Cup in Germany. We want to make history. If we don't celebrate Christmas this year, it won't matter because we will be preparing. We want to do well," he explained.
Gyan was just fi! ve days shy of his 18th birthday when he made his debut for the Black Stars. He was called up by caretaker coach Ralf Zumdick at the start of the FIFA World Cup qualifiers, making his entrance as a late substitute in the first leg of the preliminary round clash against Somalia. Within five minutes of taking the field, Gyan had scored a fairy-tale debut goal.
During the group phase of the African qualifiers, he grabbed a vital late equaliser against Uganda in Kampala in July 2004 which saved Ghana from an embarrassing and damaging defeat. He also scored against the Democratic Republic of Congo away from home and in the final qualifier away to Cape Verde Islands, where the Black Stars made sure of their first-ever trip to a FIFA World Cup finals.
Another factor in his favour is that he already has experience of playing in major tournaments. Gyan was part of the Ghana side at the 2004 Athens Olympic Games, where he started three matches. Looking at his recent projectory, it would be fair to say that he could well be hitting new, dizzier heights when Ghana open their FIFA World Cup finals campaign in June.