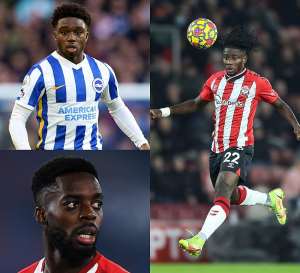 As many as six players have completed a nationality switch to play for the Black Stars of Ghana.
As reported by Modernghana Sports in the past hour, Atletico Bilbao forward Inaki Williams has announced that he will now play for the Ghana national team.
In addition to that, the President of the Ghana Football Association (GFA), Kurt E.S Okraku has disclosed in a post on his Facebook page that other players have also completed the switch.
The players who are now available for selection when the Black Stars have an assignment include Tariq Lamptey, Mohammed Salisu, Stephen Ambrosius, Patrick Pfeffer, and Ransford Yeboah.
"Tariq Lamptey, Inaki Williams, Mohammed Salisu, Stephan Ambrosius, Patrick Pfeffer, and Ransford Yeboah, are available for national selection.
"Below, yours truly with the dad of Tariq (Ahmed). Bro, thanks for the trust and your determination to see Ghana succeed," a post on the Facebook page of Kurt Okraku reads.