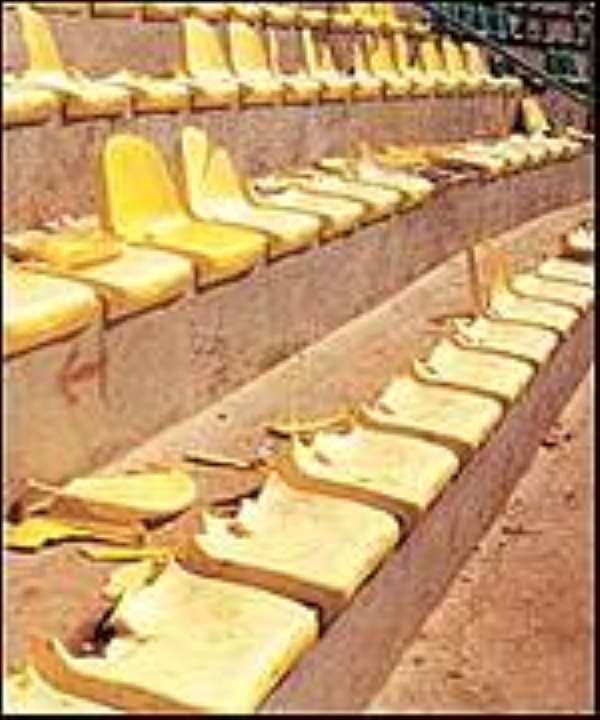 May 9 is here again with us, a day in memory of departed souls of 126 soccer fans at the Accra Sports Stadium when the two biggest clubs in Ghana, Hearts Of Oak and Asante Kotoko clashed, in a match which Hearts won 2:1. Ghanaians both home and abroad should memorise lessons drawn from the incident on that historic day where Ghana soccer became the looser at the expense of disaster amidst tears and blame. Ghana had seen similar cases before but that on May 9 tops the list in terms of deaths.
On the match itself, Kotoko was the fisrt to score through Lawrence Adjei, now with Hearts. Two goals from Ishmael Addo in the spate of 15 minutes to put Hearts ahead was what to change the colour of the show. A section of the fans began rioting allegedly condemning those goals, thus expecting the match officials to rule them out. The security personnel in an attempt to salvage the situation fired tear gas into the crowd culminating in stampede and eventual injuries and deaths as a result of closure of exit by which fans could escape the tear gas. The commission set up to look into circumstances leading to the incident had come out with recommendations to dispense justice to appropriate quarters.
Accra Hearts Of Oak and Kumasi Asante Kotoko have solid history between them.Their relationship is like one between Liverpool and Manchester United in England, Barcelona and Real Madrid in Spain and Bayern Munich and Dortmund in Germany. In other parts of Africa, similar relationships exist between ASEC Mimosa and Africa Sports in Ivory Coast, Orlando Pirates and Kaiser Chiefs in South Africa and Ahly and Zamalek in Egypt. On a number of occasions, matches between Ahly and Zamalek have been handled by foreign referees for the sake of fairness. Hossan Hassan and his brother, Ibrahim had to go under security escort in the early days of their transfer from Ahly to Zamalek for fear of threat. That explains the heat between the two clubs.
Between Kotoko and Hearts, Ghana has won three African Cup/African Champions League, two by Kotoko since its inauguration in 1935 and one by Hearts since its official opening in 1911.
The first league match between the two was played at the Jackson's Park, Kumasi in 1958. It ended abruptly due to crowd violence. Injuries were sustained and several arrest were made . It was a Kotoko-Hearts match that ended the football carrier of George Alhassan alias "Ga Manche" of Hearts after a tackle from Oliver Acquah.
Post match accusations has been a feature among both clubs. On 18th October 1978, when Hearts beat Kotoko 2:1, the Kotoko management accused Kuukuu Dadzie and Dan Oppong alias Iddi Amin of bribery. The players were dismissed as a result.
.
Hearts boast of 2:1 victory over Kotoko with nine men decades ago and their 3:0 win over the Porcupine Warriors in 2002 not to talk about their historic 4:0 victory in Accra in the year 2000. Kotoko on the other hand go shoulder high in respect of their 3:0 win over Hearts in Accra in 1980, with Edward Ansah in post for Hearts and a repetition of that feet in 1982 in Kumasi. The Porcupine Warrious have a big name for scoring one of the fastest goals against Hearts and that was by Ernest Boateng in an ECOWAS Cup match in Accra in 1995. Since 1993, Kotoko have not beaten Hearts in a league match in Accra, several years ago.
Carpet crossing has not been a common feature between the two and since 1980, players who have been in both camps number less than 30. They include Opoku Afriyie, Seth Ampadu, Salifu Ansah, Edward Ansah, Sampson Lamptey, Thomas Hammond, Isaac Eshun, Kalilu Dramani, Yaw Sekyi, Edmund Copson, Ahmed Mamoud, Emmanuel Yartey, Charles Taylor, Kofi Owusu, Abukari Kankani, Nicholas Addo, Godwin Ablordey Razark Musah and Lawrence Adjei.
However, both Hearts of Oak and Asante Kotoko have aided in taking Ghana soccer to another level. Ibrahim Sunday and Abdul Razark of Kotoko fame are among the three from Ghana on record for winning the Africa Player of the year award. Other names like Opoku Nti, Wilberforce Mfum, Adai Kyenkyenhene, Joe Debrah, Frank Amankwaah,Emmanuel Ampeah and Anthony Osei Kwadwo and co of Kotoko have also paid their dues to Ghana soccer. One can hardly overlook the the emence contribution by Hearts` Muhamed Polo, Yaw Preko, Stephen Appiah, Benard Aryee and Sam Johnson, Adolph Armah, Owusu Mensah among others to the course of Ghana football.
Who says both are not a force in African soccer? Ghana soccer would see more from you, Kotoko, Hearts.
However, their encounters have not been as catastrophic as that on May 9, 2001. We welcome the day once again and send condolence to families of victims on that memorable day.