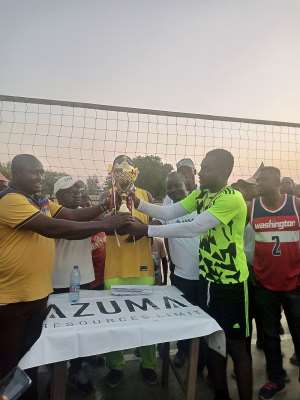 The Wa based volleyball team, Mighty Fingers, has won the golden trophy for the 2021 AZUMAH Resources Volleyball Galla held at Nadowli the capital of the Nadowli-Kaleo District on the 27th of November 2021.
The Mighty Fingers won the battle after beating their opponents. Springe Fingers three straight.Seven teams selected across the Upper West Region participated in this year's galla in two groups. Mighty Fingers, the Wa based team, qualified from Group B while Spring Fingers of Nadowli qualified from Group A.
The two teams have been serious rivalries for some time now. In the 2020 edition, the two teams met for the finals but Mighty Fingers beat Spring Fingers after hours of battle. Before the finals, many volleyball pundits, predicted that the two teams would meet again in the finals. The Spring Fingers of Nadowli whose supporters filled the court to capacity, pushing a host and win agenda were very optimistic of a serious revenge but left disappointed as the Wa based team, Mighty Fingers, proved unbeatable.
This year's galla attracted massive support across all parts of the Upper West Region, a manifestation of the growth of the love for volleyball. This many believe, will serve as a platform to unearth hidden talents to feed the national volleyball team in the near future.
Management of AZUMAH Resources, a prospecting mining company in the Upper West Region, thanked all participating teams, the organizing committee and all supporters for making the event historically successful. The company promises to continue with this annual event and other sporting activities like cycling and soccer, not only to unearth talents, but to foster peace and unity among the youth in the area.
The following are the teams that participated in the event and the positions they occupied at the end of the gala;
1st position – Mighty Fingers
2nd position - Spring Fingers
3rd position - City Stars, Wa
4th position – Jirapa Town Team
5th position - Lawra
6th position - Lambussie
7th position – Bussie.
The most disciplined team award went to Bussie Volleyball Team while the best Coach went to the Coach of Mighty Fingers of Wa, Mr. Soyelleh Charlse and best player award to Amoah Williams of Spring Fingers.
Filed: Denis Andabana//StraightnewsGh