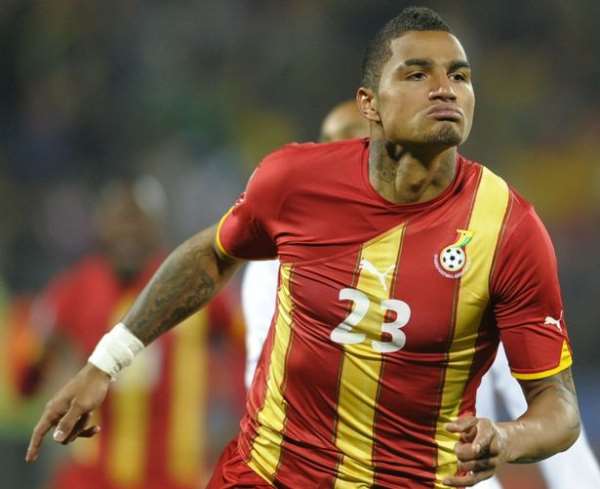 Kevin Prince Boateng
The NBA strike after Jacob Blake's injury has once again highlighted the issue of racism, perhaps and always too late. It took yet another case for the sports world to react decisively with its (probably) main actors, or the stars of the National Basketball Association. And football?
Some say it's not enough to post a post, wear a shirt, repeat or write an anti-racist slogan. It is necessary to move, to take action, to react. We repeat the concept of reaction because that's what it is. What Kevin Prince Boateng did on January 3, 2013, in Busto Arsizio during a friendly between Pro Patria and Milan. An episode that we all know: the insults of part of the audience present, the ball thrown towards the stands, the reaction, Milan following Boateng and leaving the pitch. A first important demonstration that made the player today at Monza, one of the first ambassadors in the fight against racism. A couple of months later, he received an invitation from the United Nations to hold, in Geneva.
The first signs, for a new consciousness and awareness. The players take it as an example, something is starting to move even if there is still a lot to do. We have analyzed the most important passages of the interview with Kevin Prince Boateng edited by Davide Coppo for the magazine Undici n. 4 September - October 2020, which underlines how the world of football still does little for all this, to raise awareness in the world about a social scourge: "I expose myself because it is already a kind of job. I have to do it. Why first: nobody does it. Second: I feel like doing it. I don't want to be a leader of something, but I feel like doing it. I felt the pain, I know what it means. I know how Koulibaly felt, how Lukaku felt, how it feels afterwards. "
He continues talking about the fear of his colleagues: "Of course. And I understand it, too. Many do not have the character, they do not have the possibility to say: I'm going away, and perhaps lose a contract, money with which they are helping the family. Of course, there is fear. However, how many players really do something against racism? Posting a photo and writing #blackouttuesday is not enough. It is not enough not to be racist. You have to be anti-racist. There are many things that have happened in the last ten years that cannot happen, but it has become a bit normal to be racist. And why? Because there are no consequences. Nobody does anything. That's what happened in America: they kill a person, and they can go home to dinner, and wake up at home the next morning."
Boateng makes it a question of education, how this can be decisive for a different future: "We have to start with education. If we can educate our children not to think racist, then there is a future. This is the key: school, education. School should be taught math, history ... and racism. Every week, two hours. Show children what it means to be racist. Show that this is not done, this does not exist. "
Another essential step, the institutional inaction starting from FIFA and UEFA: "Everyone must do more. Economically, it is not enough to show a video with Ronald and other people before the Champions League final. It's beautiful, okay? We need all these players who say no to racism, sure. But a video is not enough. There is racism in football in Europe, we know that. I have experienced it, many other players have experienced it. What the NBA did, what Colin Kaepernick has done for years… If we already listened to those claims, years ago, perhaps we would not have reached this point. We should follow the NBA, look at what they have done. "
It is necessary to change, a change that must come from above: "I hope that in the next few years something will change because if it doesn't change now it won't change any more. Because now we are at the limit. People are dying, and it seems normal. But we have to start with politics, and then go down from there. It is important who leads us. Who do we choose as our leader? Of course, if it's Donald Trump, then it doesn't work. But to change the world you have to start from above. To change our lives we can do it too, many are doing theirs, but these are moments. Those who help us give us the strength to keep fighting. This is the time to be reborn."