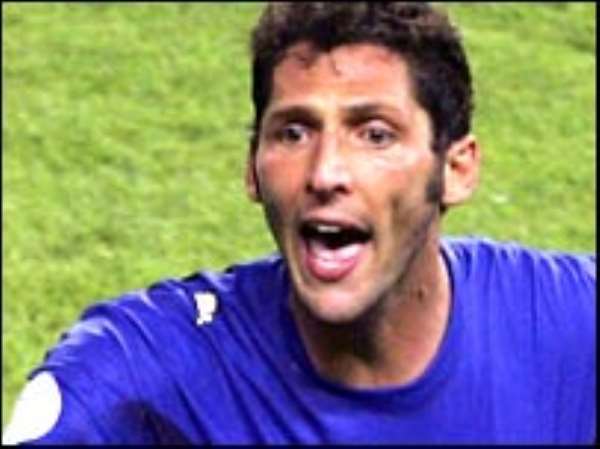 Materazzi scored Italy's first-half equaliser in the final
Italy defender Marco Materazzi faces disciplinary proceedings regarding his conduct in the World Cup final.
France skipper Zinedine Zidane was sent off in extra-time in Berlin for headbutting Materazzi in the chest.
Italy went on to win the title in a penalty shoot-out, but Zidane has since said he reacted to repeated provocation from his opponent.
Fifa has summoned the players to attend a hearing of its disciplinary committee on Thursday 20 July in Zurich.
A decision is expected later that day.
Materazzi's agent Claudio Vigorelli told BBC Radio Five Live: "I think, personally, that Fifa should only proceed against the real reaction.
"We love football and players like Zidane but his reaction was absolutely out of order especially in a big game like the final because it was his last game as a football player."
Vigorelli also warned that Fifa could be setting a difficult precedent, citing Francesco Totti's three-game ban for spitting at Denmark's Christian Poulsen during Euro 2004 as an example.
"I wonder why Fifa didn't open up a case against Poulsen two years ago in the European Championships in Portugal after the reaction of Totti.
"Totti was banned for four games, which was reduced to three, and nothing happened to Poulsen - this is absolutely a similar case.
"If they want to attack a player for what he keeps saying on the pitch, they will be very busy in the future because it's quite normal that players shout to each other in a game - especially when it's such a stressful game."
In an interview on French television Zidane, 34, said that his actions were in response to repeated harsh insults from Materazzi about his mother and sister.
However, he did not go into specifics.
"They were very hard words," Zidane said. "You hear them once and you try to move away."
"But then you hear them twice, and then a third time. I am a man and some words are harder to hear than actions. I would rather have taken a blow to the face than hear that."
A Fifa statement confirmed: "The decision was taken following claims made by French player Zinedine Zidane."
Zidane has the right to make a written statement, which must be submitted by Tuesday 18 July.
Materazzi will then be given a copy of the statement so he can respond.
The Italian, 32, has admitted insulting Zidane, but denied referring to his opponent's mother or making racist comments.
Zidane, who had announced he was retiring from football after the World Cup, was sent off eight minutes from time.
At the time France were pushing for a winner, but as it was Italy went on to win the shoot-out 5-3 after the teams finished deadlocked at 1-1 after 120 minutes of action.
Zidane had opened the scoring for France in the seventh minute with a penalty, before Materazzi levelled things up on 19 minutes.