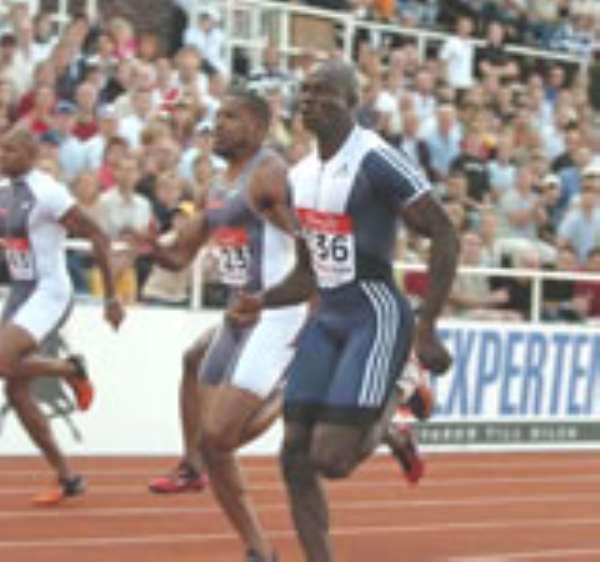 Ghana's male sprinter, Aziz Zakari, will seek to clear his name and image with a second urine sample clear of a banned steroid after testing positive the first time.
The sport's world governing body, IAAF, announced last Friday that Zakari is on a provisional suspension after traces of the banned substance Stanozolol was found in his urine sample.
And Zakari faces a two-year mandatory ban if the doping charge is confirmed.
The test was conducted at the IAAF Grand Prix in Dakar, Senegal on 29th April.
Zakari can however challenge the decision with a second sample test to be conducted soon.
The unfortunate incident comes at a time when the Ghanaian is preparing for a grand outing at the African Athletics Championships in Mauritius next month.
And he would miss the event if the second sample yields a similar result.
He would also be ineligible to compete at the 2007 Athletics World Cup as Africa's lead representative. Zakari is currently the third best sprinter in the world after consistent performances over the last few years.
Stanozolol is a crude drug on the IAAF's list of the banned substances, and it has been around for about thirty years.
Experts say it would be difficult for Zakari to prove his innocence since the steroid has to be injected deliberately to get into the bloodstream.
Canadian sprinter Ben Johnson was stripped off his 1988 Olympic Gold medal after testing positive for Stanozolol.
Meanwhile, the National Sports Council has leapt to Zakari's defense as they make frantic efforts to help the athlete clear his name.
In an interview with Joy Sports, the Chief Executive Officer of the NSC, Ernest Oduro Mensah, was confident the second sample test will erase any doubts over Zakari's innocence.