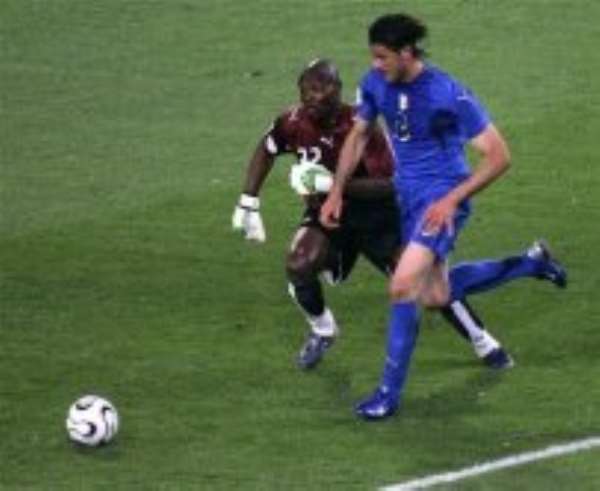 Italy coach Marcello Lippi paid tribute to Ghana after his side overcame their resolute Group E rivals in Hanover.



"Our opponents showed themselves to be as strong as we thought they would be," said Lippi after his side's 2-0 win.
"In certain aspects they were better than us. But I think overall we deserved to win.
"From a psychological point of view the first match is always difficult to win and I thought the lads did really well to close it out."
Highlights: Italy 2-0 Ghana
Influential playmaker Francesco Totti was a surprise starter in midfield, despite only recently returning to fitness after a broken leg.
"I am very satisfied with the work of all my players, including Francesco Totti," added Totti.
The atmosphere sent shivers down my spine
Marcello Lippi
Totti later limped off after picking up a knock on the same leg he injured, but Lippi added: "I didn't substitute him because of the tackle - I was going to substitute him anyway."
And Totti explained: "I took a hit below the knee. I was lucky. It was a heavy tackle and I felt quite a lot of pain.
"For a moment I was worried but it soon became clear that it wasn't anything too serious," he said.
"But I'm happy with how I played tonight. The more I play, the better my condition gets."
Lippi said he was not worried by the failure of attacking duo Luca Toni and Alberto Gilardino to find the net.
"It can happen and it doesn't worry me," he said. "The important thing is that they have put themselves in a position to score."
Lippi is coaching at a World Cup for the first time in his career and he added: "The atmosphere sent shivers down my spine.
"Seeing the stadium full of colour and so many fans singing 'Italia' was a fantastic feeling."