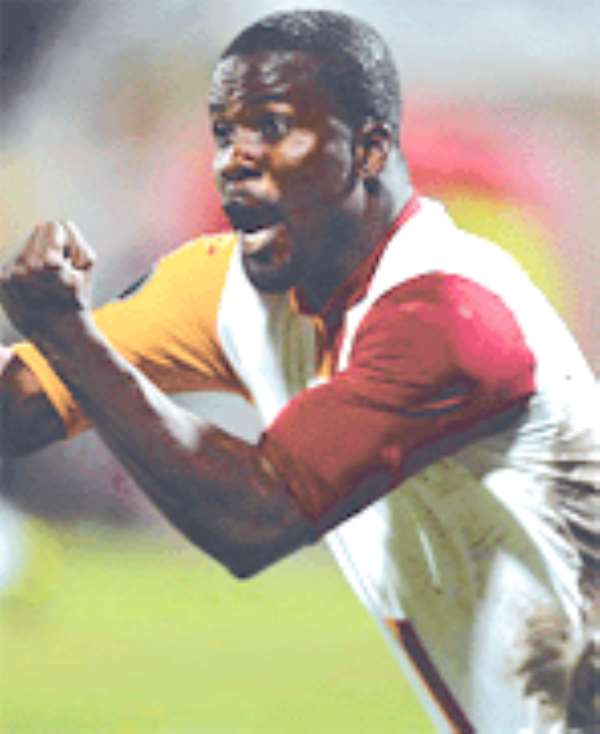 Black Stars' ace defender, Sammy Kuffour, is not known for being witty. In Germany, where he is seen by many as an integral part of the Ghana national team that is poised for action against Italy today, he is full of that.
It did not take journalists who were at the Stars camp in Wurzburg any brain racking to notice this during question time at a press conference held by Puma, kit sponsors of the Stars, at the Maritim Hotel last Saturday.
Against suggestions that the Stars would find themselves in the firing line and be consumed by the armoury of Brazil even if Ghana proceeded from the tough group stages as runners-up to Italy or whoever, Kuffour could not be admired more for his witty retort.
Hear him: "But who said Brazil would qualify from their group, let alone top it?" His answer left the scribes in askance, wondering how on earth any player could doubt Brazil's ability to defend the trophy, or even to fail to advance from the group stages.
But that is to tell you that Kuffour and his Black Stars colleagues have no respect for any team at the tournament and cannot be intimidated by the comparatively bigger names.
They believe they are also bigger names in their own right, and that is the mental disposition of the team as they take on the Azzuris of Italy in their debut World Cup group opener at the Olympic Stadium in Hannover tonight.
Aside from himself, talk of Skipper Stephen Appiah, Michael Essien, Sulley Muntari, Matthew Amoah and young striker, Asamoah Gyan, and you are comparing nothing less to the likes of Alessandro Del Piero, Francesco Totti, Alssandro Nesta, Inzaghi, Zambrotta, Camoranesi and Daniele de Rossi who are key to Italy's game.
On paper, and a World Cup record of 17 appearances with three famous claims of the golden fleece in 1934, 1938 and 1982 and AS two times runners-up,the Italians may be every European's tip to give the Ghanaians a hiding.
However, the Azzuri's coach, Marcello Lippi, has still been having nightmares about a team "I find difficult to assess and predict.
Today they are down, tomorrow they show fantastic form," he told the international press about his worries of Ghana.
Lippi is not only worried about the cinderella character of the Black Stars, but also his awareness about the toughness of Kuffour, Muntari and Asamoah Gyan in the Italia Serie A.
Even more frightening to him is the absence of any record of Italian triumph over Ghana at any level of international football.
A check-list shows a favourable credit for Ghana who beat Italy 4-0 at the fifa U-17 championship in 1993, followed by a 3-2 win at the Atlanta '96 Olympic football tournament, and more recently a 2-2 deadlock at the 2004 Athens Olympics.
Perhaps, this deadlock is what must be untied tonight as the Stars look foward to making a memorable debut in the nature and scheme of those by Cameroun in 1990 and Senegal in 2002. To put your hands on the starting line-up for Ghana is like committing Doya to suicide.
For the coach's habit of shuffling and shuffling the cards, your starting guess can be Sammy Adjei, John Paintsil, Addoquaye Pappoe, Kuffour, John Mensah, Eric Addo, Matthew Amoah, Michael Essien, Stephen Appiah and Sulley Muntari.