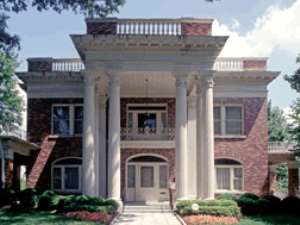 You have to hand it to Nigerians, women in particular. They are fashion-conscious, urbane, sophisticated and up-to-the-minute. Whether it is the latest designer wears, trend-setting styles and social etiquette, Nigerians know what it is all about. Usually the life and soul of the party wherever they go, Nigerians cannot be said to be shrinking violets - it just doesn't seem to be in their blood. Vibrant, bubbly, vivacious, effervescent are exciting words that aptly describe them. They are well known as very trendy people, especially the rich ones. They don't compromise on food, drinks, clothes, cars and their residences. They are so hooked on fashion that they could go to any length to acquire the very best money can buy. They cut across all the sectors of the Nigerian economy. They are everywhere; they spend money like it's going out of fashion. Even our Pastors would not be found wanting at all. For the pastors' wives, their world practically revolves around prosperity and glamour. When they step out, they are like models on the runway strutting with the best and most expensive shoes, jewelries and perfumes from world-famous designers.
There are some top corporate players who hold the roadmap of style. They are always ahead of the game, and aware of what's the trend, they joyfully show us what to do in the region of luxury and sumptuousness. Extremely conscious of their apparels, these are the people that have given new meaning to sophistication and elegance, panache and élan. At work or at home, soirees or shindigs, cocktails or dinners, they always stand out. In Nigeria, everywhere you turn, you are besieged by well turned out men and women in lovely but extremely expensive attires.
Where They Live
To separate the boys from the men, the privileged live in Ikoyi, Victoria Garden City, Victoria Island and Lekki. Most of them have their own personal houses while others live in expensive rented apartments. The amount paid per annum for a flat in Ikoyi can be spent to build a bungalow successfully on the Mainland. An air-conditioned 4-bedroom apartment, with a 100 KVA generator, swimming pool, gym, children's play area, servant's quarters, patio and fitted kitchen in Parkview Estate, Ikoyi, is worth N7.8 million per annum and you pay 2 to 3 years upfront. In Ikoyi, colonial town houses with pent houses, sensational stonewall cladding from South Africa and a frontage overlooking the swimming pool with other external features created with the occupant's comfort in mind like swimming pool, generator, a 24-hour security, gardens, escalators and lots more, goes for not less than $70,000 (N9.1 Mllion) per annum.
In Victoria Garden City, a 4-bedroom apartment with marble and granite finishing, all rooms en-suite, 2-room Boys Quarters, swimming pool, fitted kitchen, big master bedroom with Jacuzzi, ample parking space, flower gardens, water-view, hot bath, with remote controlled gate costs about N95 million. In old Ikoyi, a 3 bedroom detached house with guest chalet and 2 rooms boy's quarters on half an acre of land is N9 million per annum.
Interestingly, all these apartments are paid for in dollars and pounds. Little wonder, in Ikoyi, you tend to see lots and lots of high-rise buildings springing up. The days of houses hemmed in by low rise, delicately nurtured gardens in Ikoyi are almost gone, if recent construction activities there are to be taken as an indicator. The Island has become home to several high-rise apartment buildings, a clear negation of the old Ikoyi building plan, which featured bungalows, advised by the community's wetland topography. The turning point was the Federal Government's privatisation policy, which ensured that its Ikoyi properties ended up in private hands.
UBN, a Property Company is one of such beneficiaries. The company had acquired properties years ago on some choice sites in Ikoyi and waited for activities to get underway. There could not be a better time than now and this is evident by the company's development at 2, Kuramo Close. The site, described as simple but aesthetic comprises 16 units of air-conditioned 4-bedroom maisonettes. The magnificent apartments are incorporated into two distinct but connected (by a screened swimming pool at the centre), towers.
It is noteworthy that the demand for independent, functional and comfortable apartments with infrastructure and facilities of internationally acceptable standards has also influenced the market, as many companies opt for these qualities of accommodation for their expatriate personnel. Perhaps, what the community will suffer from this influx and obvious violation of housing plan as argued by the Victoria Island and Ikoyi Residents Association (VIIRA), it can hope to regain in aesthetic restoration. The accommodation project on Bourdillon Road, Ikoyi is a case in point. The project, also comprising two blocks of air-conditioned apartments is a marked expression of the nouveau riche's design as opposed to the Victorian styled detached houses of old. There are 12 units of 3-bedroom luxury flats with provision for recreational facilities (including a badminton court and swimming pool), a servants' block (separated from the main building by a driveway) and a passenger lift to ease movement up and down the building. There are remote-controlled lockable garages on the ground floor just beside the security house. The parking space can take just about 12 cars. With all these, the apartments may be described as cheap. They range from N10 million to N20 million per annum.
Diamonds
It became noticeable about five years ago. Without much fanfare, we began to notice that increasingly, more and more top celebrity women were going for Diamonds in their choice of accessories like necklaces, earrings, bracelets, wristwatches and rings. What attracted a lot of attention to it was because of the high cost Diamonds go for. But before we knew what was going on, it became the in-thing, with the result that right now, every high profile party now sees a few of our society women bedecked in the best designed Diamonds. Although, society women are often flooded with jewelry option, they are now strongly being lured to Diamonds, which cuts across every class of society women. But it holds more appeal for the younger generation of women whose age bracket falls between 40s and early 50s.
These are women like former First Lady, Hajia Maryam Babangida, Nana Otedola, Erelu Ojuolape Ojora, Hajia Bola Shagaya, Senator Daisy Danjuma, Fifi Ejindu, Florence Ita- Giwa, Angela Onyeador, Erelu Abiola Dosunmu, Chief Nike Akande, Sale Alesh, Moji Paul-Lawal, Chioma Madubuko Folorunso Alakija, Ireti Asemota, Yeye Funke Daniel, Hajia Abba Folawiyo, Titi Atiku-Abubakar, Ladun Sijuwade, Nkiru Anumudu, Funmi Goka, to mention but a few. The list is getting longer.
Few years back, not many society women were so particular about their adornments. The main attraction then was their garb. However, modern fashion in Nigeria is all about trying to stand out. And what better way can one achieve this other than to wear Diamonds. It is hard not to do a double-take at the fashion statements these women make on their neck. But then, who can say which earrings and necklaces are real and which are not? However, a typical Nigerian society woman cannot risk subjecting herself to ridicule by wearing unreal jewelry.
A few years back, the major trend was Gold jewelry and the Saudi gold really featured in most society women's collection. However, the advent of the millennium era ushered in the beads vogue. Of course, during this period, many society women vacillated between the options of beads and Italian gold (with the new addition of platinum white and yellow gold). All these while, a select few wealthy Nigerian society women were already building up their collection of Diamonds. This clique of women usually order for Diamonds from world-renowned jewelers like Harry Winston, Bulgaria, Van, Cleef and Arpels, Asprey and Garrard, Katz and some others.
And because they commit such huge investments in Diamonds, via their regular collections, these women usually keep vaults in exclusive stores and banks in Europe. Somehow, the realisation that glamour has to follow certain standards has seen other society women also acquiring Diamonds. This is largely explained by the fact that, like nothing else, Diamond confirms the status of a lady in the society. The idea of Diamond not only commands respect from other women, it holds a lot of allure. Moreover, the use of Diamonds by these society women has now set a new standard for party attendance and also, for the amount of media attention that they or their diamonds command. However, whether or not these diamonds are borrowed or bought remains in the realm of human conjecture but the appealing effect the craze for Diamond has on the Nigerian society cannot be denied.
Maryam Babangida is well known to have brought a lot of Glamour and Elegance into the office of the First Lady. She owns the highest, most exclusive and most expensive Diamond collection in Nigeria. And being the wife of the most influential man in Nigeria, this elegance personified woman who is in her late 50s, is even respected by most renowned Jewelers such as Harry Wiston, the best Diamond Jeweler in the world. Also, Harry Wiston, Asperey and Gerald, Van Cleef and Arpels, Boncheron and Bulgari are known to enjoy her patronage. Even though she is very much known not to be quite fond of making noise about her Diamond Collection, this former First Lady is said to boast of such fabulous collection of diamonds that will make even the British Monarch go green with envy. She has the Diamonds in various Colour, Cut, Clarity, and Carat. Even when some women avoid buying their diamonds in Switzerland, this former First Lady enjoys sourcing for hers in that country, not minding the fact that it is usually outrageously expensive. Not only that. This dark, beautiful woman has many Vaults in many banks in Switzerland, Germany, and Britain where she keeps her Diamonds.
Forget the fact that her late husband was not a favourite among Nigerians; Hajia Maryam Abacha is so far the most beautiful First Lady Nigeria ever had. And just as she is highly rated in the beauty department, so also is she rated in the collection of diamonds. This Shuwa Arab lady who is not given to much glamour and mother of nine children has a burning passion for collecting diamond jewelry. And she has them in large quantity and duality. While her late husband presided over the affairs of Nigeria, this beautiful former First Lady really spoilt herself by acquiring more and more Diamonds. Always preferring to be different, this highly fashionable woman is quite fond of building her Diamonds in platinum gold and pearls.
Daisy Danjuma is the wife of a very powerful and wealthy retired General. This Bini lady with a Mona Lisa smile invests heavily in jewelry. And she has so much diamonds in different cut, colours, clarity and carat. Apart from her rings, watches, necklaces, bracelets and earrings, this beautiful senator also acquires belts with diamond-studded buckles. She buys her diamonds in upscale jewelry stores in London, France, Lebanon and Switzerland. Moreover, some of her jewelers occasionally fly into Nigeria to deliver whatever diamond sets she orders.
She is one woman from Rivers state who boasts of such intimidating wealth that elicits envy from other women. Yet, she is not given to living a flamboyant lifestyle. But somehow, her love for collecting diamonds always gives her away, even when she prefers to portray an understated fashion-sense. A well-educated and very brilliant lady, this great lover of diamonds is from a very prominent family in Rivers State. And though she trained as a Medical Doctor, she holds a political appointment in her State. The cheapest item among her numerous set is a small earring which costs _25,000 pounds (N5.2 million). And her Jewelry collections are scattered in various vaults across the world.
Her very rich pedigree places her in such stead to own as many Diamonds as she desires. She is the daughter of Nigeria's most influential man and her mother happens to own the highest collection of Diamond sets in the country. Invariably, this very glamorous lady who is in her early 30's, is the youngest in this exclusive clique by virtue of her background. This lady has carved a sizeable niche for herself as a lady of class. Like her mother, she does the shopping for her Diamonds in Switzerland. And she is a familiar sight in Lebanon as well. She is so much adored and loved by these Lebanese Jewelers who regale their other clients about her virtues and shopping styles. The story has it that this young lady carries as much as 300,000 pounds whenever she wants to shop for her diamond jewelry.
She is an accomplished corporate woman in Nigeria. A very brilliant Accountant, this Ibadan-born lady twice served as a minister during the military era. She commands a great deal of respect from other women on account of her impeccable sense of style, just as she is always treated to a red-carpet treatment in highbrow shops in Paris. And just as she lavishes so much attention on Shoes, so does she pay equal attention to Diamond Jewelry. But she keeps all her diamond sets in banks' vault abroad
Within the clique of Gold merchant in Nigeria, she is simply in a class of her own. She is the most famous jeweler in town. Her business style entails selling to two categories of people: The first batch is the all-comers' affairs, which involves selling rare Gold sets. The second batch is known as the strong room where exotic precious stones like diamonds and emeralds are sold. And they are bought by special orders and she sells only in dollars, on a cash-and-carry basis. That is about her business life. This lady with a double-barrel surname, one of which bears that of the great Apostle of Faith, is one of the few Nigerian women with the highest collection of diamonds. She is very modest about her achievements. Thus, she does not go about flaunting her collection in a flamboyant manner. She wears the simplest of diamonds and always stands out at any gathering.
Although she is a Yoruba woman, she is an Hajia on account of her Muslim religion. This lovely lady from Ilorin is a big player in the corporate world, as she plays big in Banking, Photography and Oil sectors of the economy. Anytime you meet this Hajia, her fingers, ears and neck bleed with diamonds.
Tummy Tuck
Men and women do all kinds of expensive things to look good. Apart from breast enlargement, there is also Tummy Tuck. This procedure, medically known as Abdominopasty, may be able to help you. Abdominoplasty is known more commonly as a "Tummy Tuck", a major surgical procedure to remove excess skin and fat from the middle and lower abdomen and tighten the muscles of the abdominal wall. The result is a dramatic reduction of a protruding abdomen. Mini Tummy Tucks, or partial Abdominoplasty, is a similar procedure that targets the lower abdomen only. This procedure is much less invasive and shorter than a full Tummy Tuck. Both procedures can dramatically reduce the appearance of a protruding abdomen. The result is an enhanced appearance and a significant increase in your self-esteem and Confidence. The best candidates for these plastic surgery Tummy Tuck are individuals in relatively good shape (i.e. close to desired weight) but who are bothered by a large abdomen that exercise or diet cannot correct. If you have the following conditions, then you may be a good candidate for this surgery: If you have lost a lot of weight through Diet and Exercise, but still have large fat deposits or loose abdominal skin that won't respond to the aforementioned diet and exercise: If you have lost a lot of weight following surgery (i.e. Gastic bypass) and now have lose skin remaining or If you have had multiple pregnancies and have stretched your abdominal muscles and skin beyond a point where they can't return to normal. If you are only slightly Obese or you are an older individual that have lost your skin elasticity then, Abdominoplasty, whether partial or complete, can produce excellent results for an increasing amount of men and women.
Abdominoplasty will enhance your body contour by making your abdomen remain firmer and flatter for many years.
Tummy Tuck. Boob Lift. Arms and Thigh Lifts. Nose jobs, fat removal. These and many more are the various body enhancements that several men and women from all over the world have been criss-crossing America, Europe, the UK and South American countries to perform.
Tummy Tuck, according to plastic surgery specialist is designed to firm and smoothen your abdomen, giving you a slimmer, trimmer profile. It is actually designed to help many women who have developed Saggy stomach either as a result of substantial weight loss or following pregnancy, achieve a flat stomach as many women usually suffer weakened stomach muscles after pregnancy. Tummy Tuck helps by tightening up abdominal muscles and the procedure can even eliminate some stretch marks, especially those located below the navel. When the vogue started, having a Tummy Tuck was strictly the preserve of a few rich people who could afford it, like stars abroad and rich society women who desired to have a youthful lean look, so as to fit into gorgeous designer wears. But with the advent of Plastic Surgeons from Mexico, India, Brazil and Spain, the prices have since come down over the years, while the quality has gone up. Since almost every procedure can now be performed on an outpatient basis, a hospital stay is rarely required and this reduces the cost dramatically. Still, having the procedure done by the best in the field would attract about £15,000 and above for a Tummy Tuck. Regardless of the price, more and more Nigeria women can afford it.