Actress, Lizzy Anjorin Others 'Escapes' Raging Storm in Saudi Arabia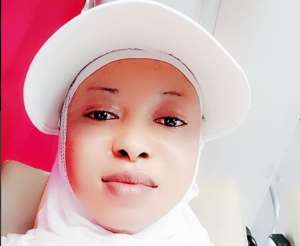 Nollywood actress, Lizzy Anjorin and other Muslim faithful's are currently on Holy Pilgrimage in Saudi Arabia, and it has been a serious time for prayers which many who have once been there come back with various testimonies.
The actress while preparing for the ARAFAT day, shared a testimony on how a strange storm shook the environment leaving many scared but after saying few prayers for some minutes, the whole place became calm.
According to her, "Today is (ARAFAT). It's a day you become a new baby with new life. Sins will be washed away. All beautiful things of life will be given like a bonaza. Oh Allah, wherever my Mother is, right now, forgive her all her sins and make her rest well. Oh Allah, I beg you to answer my today's prayer and perform wonders in my life.
"Few hours to Mount Arafat, there was a very huge storm (typoon) that throws every soul into panic for hours. After reciting the Quran for few minutes the monster storm stand still, everywhere was calm and more peaceful than it was before. Oh Allah, please, I beg You with the power that stopped the monster storm few hours ago to stop every monster storm in my life. Because You are one, You will never be two. All I want is just one helper that will change my story and history for good for the rest of my life. Since my parents can't remember the night that I was formed, don't let any human being know the source of my joy.
"Let it remain a mystery to them and for those that are waiting for my downfall, oh Allah, give them strength to wait so that they can help me spread your wonders in my life and let them remain standing till infinity because You are the God I can boast of with confidence that if you still liveth, I will never fall Insha Allah. Oh Allah, never stop dazzling me with your grace. Let long life, money and all beautiful things of life stay with me for the rest of my life. Let me be the head and not the tail. Let my man be blessed financially, spiritually and mentally.
"I will never bury any of my child/ren with my bear hands. Let everything I lay my hand on be a blessing. Let everywhere I stepped in, be blessed. Let any house I enter, be a house of fortune. Let my glory make me dine and wine with Kings, Queens and mighty all over the world. Those that can't see your glory in me, let them wait for me before they can feed their family. Show them you are God and let them see reason they must not hate or talk evil of your chosen one. Let my helpers find your grace. Let my lovers be loved by all beautiful things of life. Let my workers find favour. Let my costumers get 1billion of every amount they spend in my office. Amin"