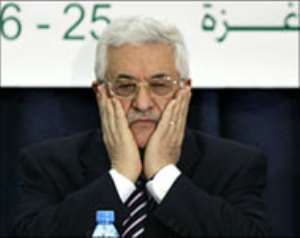 Hamas has rejected a deadline set by Mahmoud Abbas for talks on a plan calling for a Palestinian state alongside Israel and put its militia back on the streets.
Talks on the plan, drafted by Palestinian leaders jailed in Israel, had been expected to begin on Saturday, but a Hamas spokesman said the leaders were still discussing a venue.
Sami Abu-Zuhri said the meeting had not begun because "formation of the [negotiating] committee has not been finalised yet".
"Some factions want the dialogue to be held in Gaza because their representatives are there," he said.
The plan implicitly recognises Israel. Hamas's charter calls for Israel's destruction and the group has rejected calls to alter its position.
Abu-Zuhri said Hamas disagreed with a deadline set this week by the Palestinian president for Hamas to accept the plan or face a national referendum in 40 days.
"There is no need for the 10-day idea. As long as we are talking about dialogue, there shouldn't be any dates set," Abu-Zuhri said.
Yasser Abed Rabbo, an official close to Abbas, said the Palestinian president would invite Ismail Haniyeh, the prime minister, and other officials to discuss the plan on Sunday.
Renewed tensions
Regarding a possible Hamas rejection of Abbas's plan, Abed Rabbo said: "The law is like a knife with two sharp edges. Abbas has the legal right to fire the government."
Another threat of renewed tensions emerged in Gaza on Saturday as several dozen members of a Hamas-led force were redeployed on several streets, a day after the 3,000-strong militia had been removed after calls by Abbas to disband it.
Youssef al-Zahar, a leader of the Hamas force, said the group had staged a "limited deployment" after Palestinian citizens complained to them about having removed the troops.