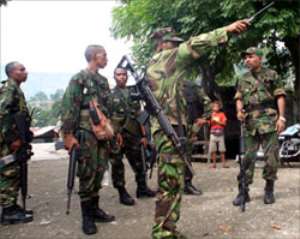 Australia has sent an advance force of 150 commandos to East Timor to secure Dili's airport as gun battles in the capital left at least three people dead.
John Howard, the Australian prime minister, told parliament that the East Timor government had approved the forward deployment as negotiations continued over plans to send a larger intervention force to stop a rebellion by former soldiers that has wracked Dili in recent days.

"Later this afternoon 150 members of a commando company group will arrive in East Timor accompanied by Blackhawk helicopters and a C-130 Hercules aircraft," Howard said.
"These Australian forces will take immediate action to secure the perimeter of Dili international airport. It's our expectation that this will ensure the airport remains open and functioning normally.

"This forward deployment has the express approval of the government of East Timor."
Gun battles
Howard said the larger intervention force, which is expected to work with security personnel from New Zealand, Malaysia and Portugal, would have four main tasks: evacuating Australian nationals, stabilising the situation, auditing the weapons held by both sides and facilitating negotiations.
Howard's announcement came after gun battles in East Timor's capital that killed at least three combatants and injured 14.
The army said that Domingos Kaykery Oliveira, an army captain, was shot and killed early on Thursday.
Letnan Gastao Salsinha, a spokesman for the dismissed soldiers, said two rebels had also been killed and 14 wounded.
Media reports said that firefights between the army and dismissed soldiers erupted in several areas around Dili on the third day of violence, and homes and business were set on fire.
At least five people have been killed and 22 injured in unrest in the capital this week, prompting the government to ask for international troops only days after celebrating East Timor's fourth anniversary of independence from Indonesia.