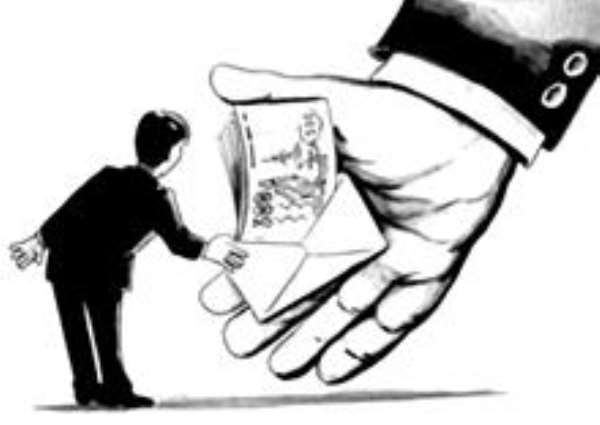 Ongoing noise on Social Media around Prophet Dr. Emmanuel Badu Kobi, Glorious Wave Church Int., Prophet Isaac Owusu Bempah and MP Kennedy Agyapong set Ghana on fire to hold its development. Alarmed by MP Agyapong GRA (Ghana Revenue Authority) ceased two cars of Prophet Kobi broadcasted in Media Interviews (YouTube etc.) claiming no duties were ever paid for these cars (paperwork can separate right from wrong). In developed countries, no President is able to take anything out from national ports without fully complying with the law. Once goods are out it becomes an internal problem for GRA to fix their own possible shortcomings with no right to complain later and confiscate anything.
This instance raises once more the question, why Ghana is such a corrupt country among countries that have eradicated corruption long ago like Singapore? Liptalk comes for free but does not make you rich and powerful, only the richness of a country in form of natural resources and/or human progressive minds does. In countries with an over-proportional dynamic society (overpopulation contributors) with abundant natural richness corruption is still haunting their Nations and on the rise.
The money Black Leaders of Africa are stealing from their people is hidden in the bosom of the White Man for him to use in his bank balance sheets and enjoy interest on it or/and as a collateral to get cheap funding from their Central Banks able to spin the wheel of fortune very well.
Few Thinkers argue corruption comes with developing of a country automatically like sun with cloudless skies. History proves that such conclusions can not be drawn. Corruption is a traditional mindset in certain cultures for their social and political elite to stay afloat of the population (be it in Kingdoms, Dictatorships or "Democracies"). It becomes cemented and rampant in the context of foreign nations that fight corruption effectively in their own territory and keep it at a lowest minimum to make them stand tall above other nations and benefit behind the scene from their weakness of corruption. Publically such developed and/or corruption less countries join hands in the demand to ask developing countries to fight corruption. They want 100% of the financial and power cake of the world to be shared ready to give 20% away as AID support to ensure control over the riches in this world stays in their hands always while keeping developed and natural resources rich countries under their feet.
When scandals like recently Airbus Industries to have paid GBP 3,3 Billion in fines over having bribed e.g. Ghana´s political elite, this is seen as a token by the White Man to control the African Man rejoicing that the African Man does not open his eyes to what is right and the positive development of their countries for the entire population to benefit from but only a few. After all, the above mentioned heavy fine will be reduced from the Tax burden of Airbus Industries anyway not harming their profit margin in anyway. It only harms the Nation Ghana as having paid too much for the airplanes bought.
63 years of Ghana being independent with the responsibility accepted to fight the White Man in case of any attempt to take political or economic advantage of the country, its main political parties NDC and NPP (there is no party and no politician in Ghana that can be trusted for a second; even Media Houses are all about party politics and not the truth owned or controlled by rich Ghanaians affiliated to a particular party) still publically make big noise about the corruption level of each other`s party and Governments yet behind the scene being buddies to enrich themselves through corruption in many forms...as it is easier to use power than engage in honest work. The White Man sees this with great pleasure and stimulates the processes with the intention to keep the Black Man under his feet always.
Throughout history in Europe and South America countries involved in vicious cycles of internal problems asked Royals/Representatives from foreign nations (George I from German Royal Family Braunschweig-Lüneburg became King of UK in 1714, Otto von Wittelsbach from 1832-1862 was King of Greece, Adolf Friedrich from German Royal Family Holstein-Gottop became Karl XIII of Norway 1814-1818 etc.) to rule over them based on e.g. contracts (as seen today in football on club and national team level) and fix their problems. As long as African Nations do not see the benefit of such a contract their misery will continue and make the White Man stronger over the African Man.
NB: Churches are closed in Ghana due to Covid19. Bishops and Pastors fight the decision arguing who should bring them offerings to feed their families...this country is truly down on its knees in moral, spiritual, social and political aspects...so sad!