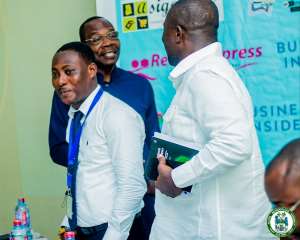 Selasi Koffi Ackom
In as much as the timeliness for this entire exercise is wrong, I am sure and can bet with my very last pesewa that the AMA did not just wake up to demolish this area. The AMA under this current regime wouldn't be such callous and inhumane in doing this at this time. The Mayor appears too intelligent to do this.
Am sure that several eviction/demolishing notices and warnings would have been served those living there over a substantial period of time.
The rains are about setting in folks. Am sure the AMA is currently looking for some temporal place for them and this should happen as soon as possible. They shouldn't spend another night there like this. However, immediately the lockdown is lifted, they should be giving some stipends to relocate to their various regions.
Let's support the AMA to rid Accra of filth and prepare ACCRA for the AfCFTA (African Continental Free Trade Area). There will be too much visitors (Tourism and Business) and Accra got to be as READY AND PREPARED as never before!
Excerpts from the FINANCE MINISTER'S grandiose thought-provoking interview which has gain grounds not only in Ghana;
'' The world is changing. The German chancellor doesn't want to hear about debt-to-GDP ratios. Unthinkable stimulus packages are being announced, trumping orthodoxies and with no talk of a moral hazard: the G20 packages may end up close to $8b. Their generous tool kits are not available to us.
I am green with envy. To be honest, there is a lump in my throat as I think of Africa's predicament. I question the unbalanced nature of the global architecture. I have, in one fell swoop, lost more than $1bn of revenue as domestic taxes continue to shrink, compounded by lost productivity and job losses. We still have an obligation to service our debt portfolio''.
Me: A One-Africa, A united Africa, A Free Trade Africa will release our Finance Ministers from sleepless nights in difficulties such as this. Let's create an Africa to become the envy of the West too! YES WE CAN!
Selasi
An Nkruhamist