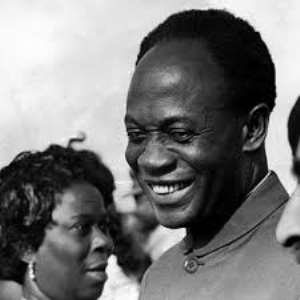 Osagyefo Dr Kwame Nkrumah
1st July 1960 has always been the day our country was led by its founder (Osagyefo Dr Kwame Nkrumah) and other well-meaning Ghanaians who were at the helm of affairs to CUT the UMBILICAL CORD permanently from our Colonial masters (Britain).
On this day, we literally and legally said goodbye to the Queen of England and the entire English people. Every colonial tie with them was permanently abrogated.
To some of us Nkrumahist, this day is more remarkable than the Independence day because Independence without a Republic is not FREEDOM! Independence with a Republic is not an Emancipation!
Examples can be said about Ivory Coast, Togo, Senegal and all other French Speaking countries on the Continental who are still committed to their colonial masters till this very day meanwhile, they have had independence. The French Central Bank still sucks from their colonies! Their Independence wasn't preceded with a (Republic) Total Freedom!
The attempt by this government to relegate and retire this Special, Significant and Historical day from the anals of our Calendar is a clear indication to wipe out anything Osagyefo Dr Kwame Nkrumah. The anti-Nkrumah agenda!
The continuous and deliberate attempts to change history and re-tell our story to include '' commoners '' should be exposed!
We wanted Independence NOW! And yes! we had independence NOW and not later or within the shortest possible time. No attempt to deprive our unborns the opportunity to know the plain truth will wash. Issues about the CPP and Osagyefo Dr Kwame Nkrumah is spiritual and it degenerates anytime attempts like such crops up!
Osagyefo has stood the test of time since his canal demise and it will continue to stand the test of time no matter any effort and attempt made by person(s) born of a woman!
Osagyefo and the CPP are supreme and will remain supreme.
Our Republic Day Celebration shall remain a remarkable holiday to remind all Ghanaians of its relevance and essence should a CPP government ever come back to power.
That torch which was lit will shine forever and will keep the path clear for all!
The love of our country should have marshalled a National revolt when this evil plan was hatched and implemented!
Long Live Ghana!
Long Live Ghanaians!!
Long Live Osagyefo Dr. Kwame Nkrumah and Nkrumahist!
Selasi Koffi Ackom
A Proud Nkrumahist!