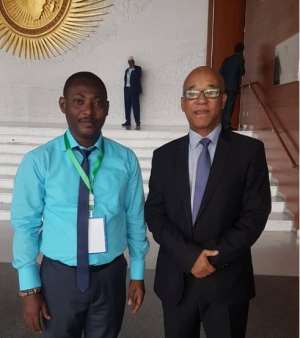 So, the Nations Broadcaster (Ghana Television) called for an interview on their 7pm Prime News yesterday for my views and opinion on the recent interview Mr. Wamkele (The recently sworn in Secretary General of AfCFTA) granted to Reuters-Africa.
My views and Opinion on the subject were simple!
AfCFTA has become the HEART BEAT of Africa. From the genesis of AOU right until now, AU; our fore-leaders had worked tirelessly for a united bloc and as such had also laid down plans for a CONTINENTAL-TRADE program such as what we have today as AfCFTA.
In January 2012 (18th Ordinary Session) when our leaders met in Addis Ababa to commence discussions on a unitary Trade Program; it is purely based on the conviction that our Continental had come of age to move forward with this; considering the successes, vast economic benefits and gains made by Trade Blocs such as the European Union, NAFTA, ASEAN Free Trade Area et al.
It was also because our leaders jointly agreed that, the over 1.3 billion citizens of the Continent deserved a Free and Better Trading opportunity among-st themselves and that it was time to move plans from the thousands of paper talks to action.
A lot of work had gone into making this a reality also citing in-example the massive support our leaders once-again showed in Kigali somewhere in 2018 where 44 Member States concerted to put talks to action. In 2012, the timeline hence the deadline giving was 2017, 5 clear years ahead.
The Operational Phase as we all know came into force at the 12th Extra Ordinary Session in Niamey, Niger in 2019 somewhere on 30th March which saw 24 Member States immediately depositing their various Instrument of Ratification. This singular act immediately placed the approval rate of this UNITY-TRADE-DEAL as the best ever since the formation of the World Trade Organization in 1994. AfCFTA was 2 Member States more than the perimeter of 22 Member States limitation set to show approval rate.
More than 30 Member States have some far signed and ratified this Trade-Deal so Mr. Wamkele can not single handed-ly declare the postponement of the commencement of Trade on July 1st as agreed and fixed on the calendar. Even-though he partially acknowledge same in his interview, he was also quick to grant himself the superiority of affirming his claims.
In my Opinion; It can only take the Heads of States to determine otherwise and not the yet-to-assume-office SECRETARY GENERAL.
Mr. Wamkele further opined that, a meeting fixed in South Africa in May this year was supposed to affirm and charter a clear path of implementation in July has been postponed due to the COViD19 Panademic therefore the next available date will not be later than January 2021. Mr. Wankele sharply discarded suggestions of a holding virtual meeting and cited the translations and laying of dozens of paper work as the main reason.
What Mr. Wamkele failed to note is that; Global Crisis such as the COViD19 also requires extraordinary Crisis Management in re-fixing fixed-CONTINENTAL MOVEMENTS such as AfCFTA. In other words, our Leaders can decide to either proceed and have him move to his office in Accra to start soft-work whilst the hard aspect is held on or better-still, re-fix this SA bound meeting in June for the purposes of not disappointing Africa in the face of this man-made Bio-Weapon! Our leaders can also decide to postpone the commencement of Trade on the Continent to 2021 however, it is obvious that the majority of the African Citizenry supports the commencement of Trade in July 2020. More than 95% of Trade Tariffs will be neutralized for free movement of goods and service. This is EPIC!
In my conclusion; I believe that Mr. Wamkele was overly excited in that interview and granted himself some authorities beyond himself and made comments he wasn't supposed to be making as fresher occupying a very important and historically-significant and among-st all things; enviable position. His public utterance ought to be guided and managed and not allow his Youthful Exuberance outweigh him. Actions and utterances such as what he made with his interview with Reuters may create the impression that, all Youths in Africa carries same demeanor when giving VVIP opportunities as his has. Nigeria may already be pointing fingers at the AU by saying; '' a more reason why we opposed his nomination is manifesting even before his occupies his office to commence work ''.
Mr. Wamkele is a fine gentleman by all standards and a proud son of the African Soil. His experience as the CTN for South Africa and his Diplomacy role with the WTO should see him steer the affairs of AfCFTA as the SG in High Esteem!
In March this year, I foresaw this so I contacted the African Union Commissioner for Trade & Industry (H.E Albert Muchanga whom I constantly refer to as Ambassador Muchanga) and sought his views on a possible postponement due to the Virus and as mature as he is; He said a few words in his response as copied and paste the below;
'' Thanks CEO,
We are in touch with Member States to agree on the next steps. Will keep all stakeholders, including your esteemed organization on the next steps to be taken. Regards ''
AfCFTA has come to stay!
AfCFTA has come to make Africa Great again!
AfCFTA will remain the heart-beat of Africa forever!!!
Selasi Koffi Ackom
CEO - GITFIC & Rescue Shipping
An Nkrumahist
In-shot; The Ethiopian Finance Minister and myself after his prolific speech and participation at the 3rd GITFIC (Ghana International Trade & Finance Conference) at the AU Headquarter in 2019.