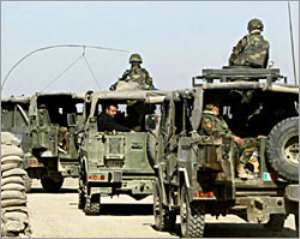 Italy's foreign minister has said that the new government will begin planning the withdrawal of its troops from Iraq next week.
Massimo D'Alema made the comments on Saturday, two days after Romano Prodi, the prime minister, called the war in Iraq "a grave error" that fueled international terrorism.
"The government will begin working as soon as next week on a plan to redefine the character of the Italian presence in Iraq, which will become a civilian presence," D'Alema said during a visit to Naples.
He was quoted by Italian news agencies as saying that the decision "is not a flight, but a political choice".
He later said the first meeting to plan the pull out was scheduled for Wednesday, according to the ANSA news agency.
Silvio Berlusconi, the country's former prime minister, was a close ally of George Bush, the US president, and sent about 3,000 troops to Iraq to help with reconstruction after the ouster of Saddam Hussein in 2003.
Unpopular move
But the move was unpopular in Italy, and Prodi said repeatedly during the election campaign that if he won the troops would be pulled out "as soon as possible" and replaced with a civilian force.
The ministry of defence said last week that about 2,600 Italian troops remain in Iraq, and ANSA reported that that the number would drop by 1,000 soldiers by next month.
Prodi has not given a precise timeline for his government's version of the pullout, except to say that it would be worked out with the agreement of Iraqi authorities and coalition forces.
In his first address to parliament on Thursday since taking office the day before, Prodi considered "the war and occupation in Iraq a grave error that hasn't solved - but has complicated - the problem of security".