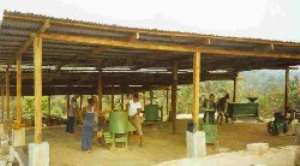 Three research institutions have joined forces to design oil palm processing plants to make agriculture more attractive to the youth.
This follows the signing of a memorandum of understanding (MOU) among the GRATIS Foundation, the Department of Agricultural Engineering of the Kwame Nkrumah University of Science and Technology (KNUST) and the Institute of Industrial Research (IIR) of the Council for Scientific and Industrial Research (CSIR).
The move is also to avoid the duplication of functions, since the three institutions will focus on the same activities.
Speaking at the signing ceremony, the Director of IIR, Dr Essel Ben Hagan, said the collaboration was a multilateral co-operation to develop, fabricate and disseminate oil palm processing equipment in support of the vast oil plantations in the country, as well as those under the President's Special Initiatives (PSIs).
He said similar collaborations failed in the past because of the lack of a ready market for the finished products and the inability to focus on demand-driven areas in order to achieve the intended impact.
"The CSIR-IIR and GRATIS Foundation share a common mission to undertake demand-driven research into manufacturing processes and product development, transfer proven technologies and provide consultancy services towards the growth of small and medium-scale industries in Ghana and the West African sub-region," he said.
Dr Hagan said Ghana's current development agenda was guided by the Growth and Poverty Reduction Strategy (GPRS) II which gave the needed attention to agriculture.
He said to achieve those dreams, research institutions had to come together to seek how best they could come up with the needed technology and to add value to agricultural produce to ensure the speedy growth of the economy, since that was the objective of GPRS II, and also to raise the per capita income and assist the private sector to grow and generate employment.
Dr Hagan said there was the need for the mechanisation of agriculture as one of the priority interventions to accelerate agriculture-led growth in the country.
"The government of Ghana intends to diversify Ghana's export base and exploit external market opportunities for oil palm, cassava starch, salt and textiles to generate skills and employment," he said.
The Chief Executive Officer of the GRATIS Foundation, Mr Kwabena Dankyi Darfoor, said in 2004 and 2005, there was a collaboration to develop a high-capacity palm oil processing plant to support the PSI on Oil Palm and added that the three institutions would design and manufacture major components to process oil palm on a large scale.
He said the investigation and equipment specifications were completed last year, which led to the signing of the agreement to lay the foundation for the manufacture of the first plant.
The Head of Agricultural Engineering at KNUST, Dr N. Kyei Baffour, expressed the hope that the three institutions would work as a team for the growth of the country.