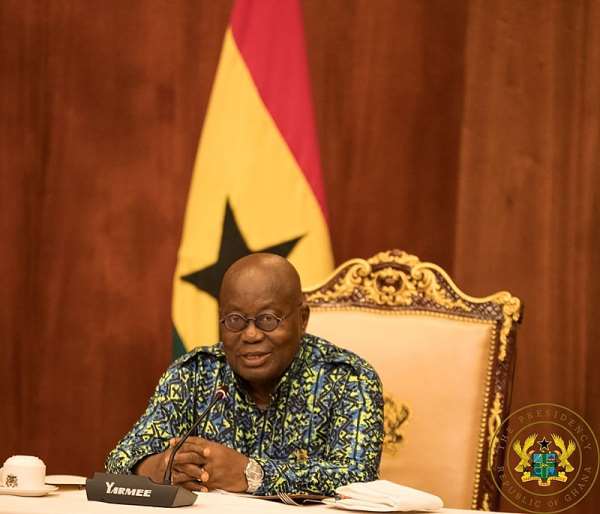 Hot on the heels of the novel COVID-19 pandemic, President Nana Addo Danquah Akuffo-Addo announced a partial lockdown(shelter-in-place order) of Accra and Kumasi, the epicentres of the Coronavirus in Ghana effective today Monday, March 30, 2020.
The declaration came on the heels of heightened calls from the general public and particularly, the Ghana Medical Association.
Uganda, South Africa, Mauritius, Lesotho, Rwanda, Namibia among other African countries are on lockdown.
Angola declared a state of emergency and a 3-day lockdown.In Zimbabwe, the lockdown is supposed to take effect from today and public transport is to be restricted, except public service buses that will operate under strict social distancing.
Ghana's case count as at March 30, 2020, stands at 152 with five deaths and two reported recovery cases.
Globally,we've a total of 723,540 case counts with 33,998 deaths and 151,824 recovery cases.
Aside Accra and Kumasi the cynosure of the virus, the Upper West Region recently confirmed its first case of COVID-19, involving a 42-year old Ghanaian who visited UK and Spain and returned to Ghana through Egypt.
On 29th March 2020,at 10:30 hrs, Tamale in the Northern Region, recorded 10 cases involving Guinean residents who travelled through Burkina Faso and Togo to Ghana and were picked up and mandatorily quarantined in Tamale under the direction of the Regional Security Council. Spine-chilling,I guess!
Wondering how they got into the country in the first place, right? Through our passable borders, of course!
Inasmuch as I commend the president for the bold decision to lockdown(shelter-in-place order), the "windows of my eyes can't just close to the manner in which it is being done and announced, and the reverberations therefrom.
In fact,I was among the many still voices calling for a lockdown of the country, but ever since the president announced his kind of lockdown,I became more afraid of my own shadow. Simply put panic buying and panic traveling!
Could it have been a total lockdown of Accra and Kumasi explicitly explained to the Ghanaian, with no movement of passengers across regions from the day of the declaration?
The risk of the lockdown alone,I put it to you blankly,is more than all the interventions of government put together.
People clamorously disregarding the Social distancing rule to stock-up toiletries and foodstuffs among other essential supplies for the next two weeks.Partial lockdown with many exemptions miscommunication to the extent that most people thought gas filing stations and banks were to be affected by the 'so-called lockdown.
With the stampede,you can imagine the number of people that would be affected if there were potential carries of the virus among them.
Leadership of our dear nation seem not to be inspiring confidence in the system.The hysteria of the virus seem to have clouded their sense of right reasoning.We understand it's not easy; but the mistakes are way too basic to fantasize.
Just as we became negligent and like a mirage,imported the strange virus into the country through our porous borders,ports and airfields,we are now trying out of the same slackness to endanger lives in our vulnerable communities across the various regions.Jumping Judas!
We had power under the imposition of restriction bill to restrain entry into Ghana in the early days,but leadership failed to do the needful.
Courage was mustered to abondone our students in Wuhan,the capital of Hubei province,China,where the virus emanated,but we opened our borders and airfields wide enough to any traveler without due diligence.
I should like to say that,the sudden spike in the number of travellers from Accra and Kumasi to Northern Ghana following the lockdown declaration shouldn't be lost on you.This was smelled.It was anticipated and not at all flabbergasting.
Where were you expecting the head porters,popularly known as 'Kayayei',who in trying to put body and soul together have found convenience on the streets of Kumasi and Accra to go to? How about the many homeless street hawkers;were we expecting them to look to heaven and jump into the welkins?
These people survive under the mercy of the streets in the cities because,we've failed to create a better space for them to make a better living in rural areas.And in announcing the lockdown,we overlooked their needs and presence in the affected areas.
Going by the logic that when people move,the disease move,then there is a potential risk of spreading the virus to other parts of the country through this panic travel.
Mind you,it's free entry,free exit into Northern Ghana for most of these travelers without visible screening.Our leaders at the local level seem more in a deep slumber.The Savannah Region is a clear example.
They look on helpless as these people flood our communities with all its repercussions,when they could have simply deploy their powers and mounted roadblocks at ventage points,quarantine such people for 14 days before clearing them to join their families.
With our weak health system coupled with clear lack of ventilators and Personal Protection Equipment,i wonder were we will turn to if we get overwhelming cases of COVID-19.Our infant regions are already lamenting over the lack of Personnel Protection Equipment. They can't even take a sample of suspected patients,not to talk of running a test.
Be warned that there is community-level transmission of the virus ongoing in Ghana and you can't tell who is the next victim.
Indeed,we love and welcome our brothers and sisters home from their "life-searching" adventure,but not at the expense of our own lives.We can only love you as ourselves,but not more than ourselves.It is our prayer and hope that you are virus-free.
It goes without saying that,in times like this, self-protection is key!
Our lives remain in our hands, not government.We owe it a duty to ourselves and our communities to curb the spread of the virus in our regions.
'Self-isolate from relatives who recently returned from the epicentres of the virus for 14-days. You can organise a cocktail party with minimal attendance after the 14 days and thank me later.
Instead of the once-in-a-century fumigation of markets, let's disinfect our homes,lavatory and bathrooms on a daily basis as required.
It's recommended that we wash our hands with soap and running water for at least 20 seconds,especially after visiting the John,coughing, sneezing or blowing one's nose.The virus is killed by soap outside the human body as soap burst its protective bubble.
Also,the use of alcohol-based hand sanitizer with at least 60% alcohol by volume where soap and running water are not available in a ready manner.
Worthy of acceptance is the suggestion by the WHO that we should avoid touching our eyes,mouth or nose with unwashed hands.Science would say it's impossible to stay a minute without touching your face,but we ought to give it a hard try.
As much as possible, stay at home and be safe.
Shalom!
Editorial note: In times of pandemic like this,all we need is research, not fear or panic.
What will be the future impact of Coronavirus on the universe?
Ananpansah B Abraham (AB)
Blogger/Local Reporter/Assembly Man for Canteen Electoral Area
0241129910/0200704844