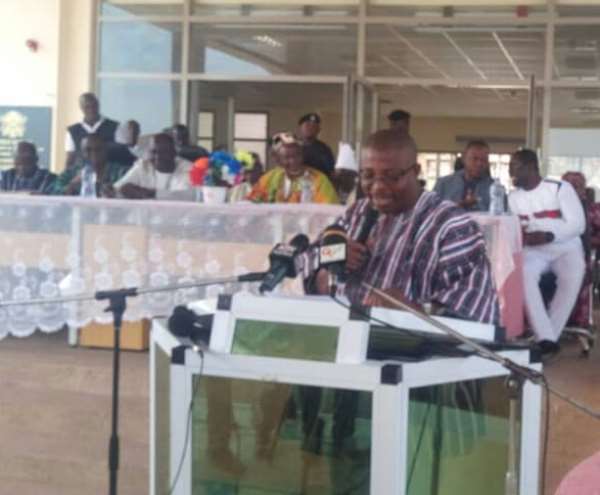 The Deputy Minister of Health, Dr Alexander K Abban, has urged health workers to support government in its quest to achieve the Sustainable Development Goals (SDGs) on health by 2030.
He said the government could achieve Universal Health Coverage (UHC) before the 2030 target if health working, especially medical doctors and other critical service providers, accepted posting to all regions to serve.
Dr Abban said this at a brief ceremony in Wa on Thursday to officially commence clinical and non-clinical service at the Ultramodern Upper West Regional Hospital.
The facility was commissioned by President Nana Addo Dankwah Akufo-Addo on August 18, 2019, but had since not been operational.
It currently had six medical doctors - a Dentist, an Obstetrician and Gynecologist, an Orthopedist and three general doctors.
An Orthopedist, Dr Albert Amesiya, who worked at the St Theresa's Hospital in Nandom for ten years, was the Medical Director of the facility.
The Deputy Minister said the hospital was to commence with 280 health personnel, including seven medical doctors, representing 50 per cent of the required staff for the facility.
He pledged the commitment of the Ministry of Health and the GHS to train and fairly distribute health workers to all parts of the country, and urged the personnel to accept posting to where ever they were posted to.
Dr Abban also said they would work to remove all bottlenecks to quality service delivery to ensure that the people received quality service at all levels.
The Acting Director General of the Ghana Health Service, Dr Patrick Kumah Aboagye, explained that they needed to train the staff to effectively man the state of the art equipment at the new facility as well as secure license from the National Health Insurance Authority.
That, he said, led to the delay in commencement of clinical services after it was commissioned.
He said they had put in efforts to post the required health personnel, including medical doctors, to the facility.
The Ag DG cautioned the health staff against any act that could impede the effective operation of the facility.
He urged the public to seek primary service at the various facilities including Community-based Health Planning and Services (CHPS) as the new facility was a referral centre.
On his part, the Upper West Regional Minister, Dr Hafiz Bin Salih, was hopeful that the facility would deliver the need referral services to the people in the region, and that he did not expect any referral from the region to other parts of the country such as Tamale.
He emphasised the need for medical doctors in the region to help improve quality service to the people and appealed to the DG and other stakeholders to prioritise the region when posting medical doctors.
He said the Regional Coordinating Council would ensure that all doctors posted to the region received the maximum support to carry out their activities effectively.