Cocoa Farmers Call On Government To Stop Influx Of Fake Pesticides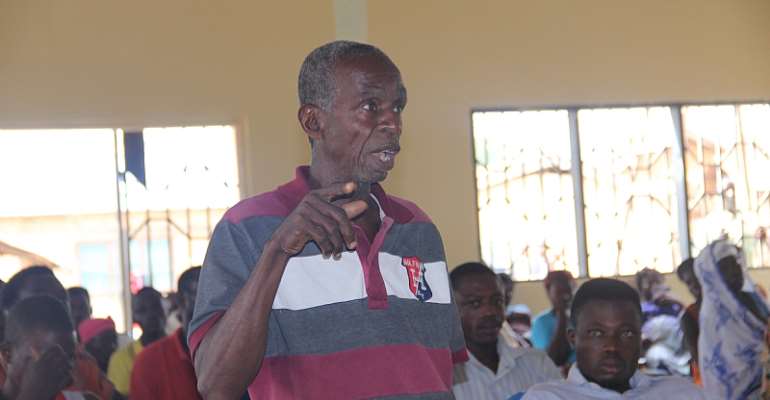 Hundreds of Cocoa farmers in Ghana are using unapproved pesticides for agricultural production, thereby contaminating the soil, water, and other natural resources. The use of unapproved pesticides does put the health of the environment and humans at risk.
At a forum organized under the Rainforest Alliance Partnership Program in the Western North Region, a number of cocoa farmers expressed concern over the proliferation of unapproved pesticides on the markets, some of which are patronized by smallholder farmers.
Conservation Alliance International (CA), an NGO, is currently implementing a program with a number of cocoa sector partners to reduce farmers' dependence on pesticides as the only means of addressing disease and pest incidence on their farms.
The Project Coordinator Ms. Abigail Frimpong, hinted that If the importation and use of the unapproved pesticides go unchecked, the quality of food product and Ghana's cocoa could be compromised and some of Ghana's roughly $2.09billion annual cocoa export could be hit hard in the coming years.
In light of this, the President of the Bia West Chapter of Conservation Cocoa Association, Mr. Steven Frimpong, is calling on the government to ban the influx of unapproved pesticides on the market. He stressed that the government should enhance the quality of inspection at the dealer and distribution levels and institute stricter penalties including jail terms for industries and chemical sellers found to be selling unapproved pesticides.
Made secretly and branded with names that sometimes resemble the original, unapproved pesticides have flooded the market making farmers unable to determine the original from the fake ones. A few of the agriculture input supply stores peddle high-margin unapproved products to unsuspecting farmers, in turn affecting established firms that produce and sell approved pesticides with less harm to the environment and human health.
"Some of us are illiterate farmers; we seek advice from the chemical sellers and just spray on the crop," said Francis Duku, a farmer in Elluokrom in the Western North Region, whose four-acre cocoa farm was devasted by mirids this year. "It's a double loss when you see the crop wilting away and your money was spent on pesticides that don't work".
Miss. Abigail Frimpong, also indicated that some cocoa farmers continue to use unapproved pesticides on their farms totally unaware of the harm they are causing to their health, that of their farms and the environment at large. "Use of excessive pesticides has been a cause for concern for quite some time, and the burden from unapproved pesticides makes the concern extremely critical-she said in an interview.
These discussions took place during a meeting with a cross-section of cocoa farmers in Debiso, a community in the Western North Region to dialogue on means by which farmers can channel their concerns to COCOBOD and be heard as part of CA's project under the UTZ/RA funded Sector Partnerships Program in Ghana.