Campus Business Pitch Launched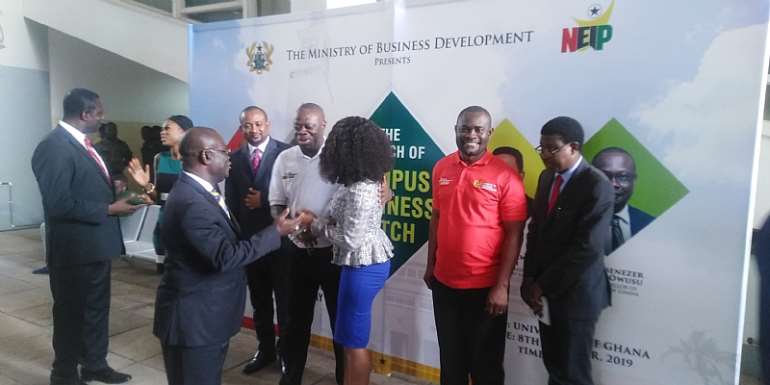 As part of measures to reduce unemployment among youths in Ghana, the Minister for Business Development, Mohammed Ibrahim Awal has challenged students of various Tertiary Institutions to come up with innovative ideas which will support them build a better future.
According to him, this will not only showcase the God-given talents but also create bigger opportunities in the job market.
Speaking on the theme "Nurturing Tomorrow's Business Giants Today" at the launch of Campus Business Pitch in Accra, the Minister said "We are putting in GHc3 million into this competition and we will be glad to support two or three students who will emerge victors".
He noted that his Ministry is dedicated to the course adding that the Akufo-Addo Administration will not relent till it sees its youths becoming global icons as well as prominent people in the society.
Hon. Awal challenged young ladies to partake in the Campus Business Pitch challenge emphasizing that what men can do, women can do better.
Deputy Minister for Information, Pious Enam Hadzide also assured the students of Government's support in the Campus Business Pitch programme.
He said "Believe in yourself and know that Government is greatly behind you. Look at Mark Zuckerberg and Steve Jobs. I am not mentioning these names to make you drop out of school but challenge yourself and aim high".
The Deputy Information Minister however commended the Ministry of Business Development for the great initiative.
Deputy Minister for Works and Housing, Barbara Ayeshi Asher expressed appreciation adding that the pitch competition will not only nurture but unearth real talents.
She said "This programme will be encouraged students to pitch their own ideas and the best pitch will be supported through capacity building and funding. It is one thing having the ideas and one thing having the funds".
She also tasked the representatives of various Universities to utilize the opportunity and hay whiles the sun shines.
In an exclusive interview with Modern Ghana, Chief Executive Officer of National Entrepreneurship and Innovation Programme (NEIP), Lawyer John Kumah lauded President Akufo-Addo for creating an enabling environment for Entrepreneurs and Start-ups in the country.
He added that the GHc3Million support from the Ministry of Business Development will help students translate their business ideas into realities.
He said "Government is willing to give funding and training. We want to nurture business giants emerging from our campuses. Facebook among other apps were started by University Students. We can also make it".
He revealed that the lack support from the environment and structures has contributed in the country's inability of invent great things.
He tasked students who have passion in great inventions but are not getting the results from the classroom to not to waste their time but follow and achieve that dream.
SRC President at the University of Ghana, Isaac Agyemang was confident that the hour has come for a renaissance of entrepreneuring spirit to be etched on the minds of students.
"NEIP, flagship policy initiative of the Government has a primary objective of providing an integrated national support for start-ups and small businesses. It will build an industry-driven economy capable of providing decent jobs that are suitable and sustainable for development" he said.