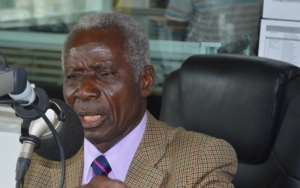 A former Chief of Defence Staff, Brigadier General Joseph Nunoo Mensah has condemned government for what he believes is the hasty announcement of an attempted overthrow of the government without evidence.
According to Mr. Nunoo Mensah who once headed the Defense Intelligence Unit of the Ghana Armed Forces, no civilian can single-handedly overthrow a government in the fashion announced by the government.
He said the evidence adduced by the government so far in support of the allegation shows that the government officials making the announcement have no knowledge on the subject of overthrowing governments.
"I have arrested people in the past as a result of military intelligence, during the time of the Acheampong coup, many of them. But this is not the way it should have been done. If up to now, you cannot convince us that they [the suspects] are up to something, the target of their attack, and all that, [then] I think government was too quick in talking," he said in a Citi News interview.
The government on Tuesday said in a statement that security agencies in a dawn operation on September 20, 2019, arrested three suspects and seized several weapons, ammunition and explosive devices at the Citadel Hospital, at Alajo and another location at Bawaleshie [Kpone] near Dodowa in Accra.
The suspects are Dr. Frederick Yao Mac-Palm and Mr. Ezor Kafui, a local weapon manufacturer and Bright Allan Debrah Ofosu who according to the government, were plotting to take over key state installations and the reins of government.
The statement said the joint operation was carried out after fifteen months of surveillance and evidence gathering on the activities of the suspects and other persons.
Some Ghanaians have expressed doubt about the seeming severity of the issue given the kind of weapons that were seized and the reported plot the suspects had.
According to Nunoo Mensah, the government could have allowed the security agencies to handle the issue and look thoroughly into it before making public pronouncements.
"Don't rush into telling people things you have no idea about. Even a coup, you can organize it without a single weapon being fired. It depends on how you do it. No one can get up and do a coup d'etat without the military. Is this a coup d'etat attempt? No way."

"Let the police and military join with the BNI and Defence Intelligence, don't come and say there is going to be some disturbance of our country's peace," Brigadier General Nunoo Mensah added.
---citinewsroom