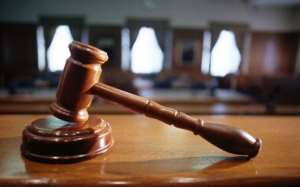 Six other military personnel have been put before the Kaneshie District Court in connection with the alleged plot to takeover the Akufo-Addo government.
They are Lance Corporal Ali Solomon, Lance Corporal Albert Baba Ibrahim, Lance Corporal Godwin Nii Ankrah, Lance Corporal Sylvester Akapewu and Lance Corporal Seidu Abubakar.
The list also included a female military officer whose rank and name was only given as WO2 Esther.
They have been charged with possession of explosives, arms and ammunition without lawful authority.
They join one other senior military officer, Colonel Samuel Kojo Gameli, who was arraigned last week and charged with possession of explosives, firearms and ammunition without lawful excuse.
Colonel Samuel Kojo Gameli was charged alongside a civilian, Geshong Akpa.
They have been accused of working with Dr. Frederick Yao Mac-Palm, Ezor Kafui and Bright Allan Debrah Ofosu who were arrested for plotting to topple the government.
A joint security operation on September 20, 2019 led to the arrest of three persons after a raid on the Citadel Hospital in Alajo, which Dr. Mac-Palm manages.
Security personnel also discovered five locally manufactured handguns, a foreign handgun, three locally manufactured handgun barrels, three smoke grenades, 22 Improvised Explosive Devices (IEDs) and some AK-47 rounds.
The three were arraigned and charged with conspiracy to manufacture arms and ammunition without lawful authority.
The arrests followed 15 months of surveillance and gathering of evidence on the activities of the suspects.
The government also said meetings between the civilian suspects and serving military personnel with a view to executing a plot to obtain weapons, take over key installations, and secure funding for the purported coup "were closely monitored."
According to the prosecution, some of the suspects are members of an NGO called Take Action Ghana.
---citinewsroom