Manhyia North MP Electrifies Constituency With Football Gala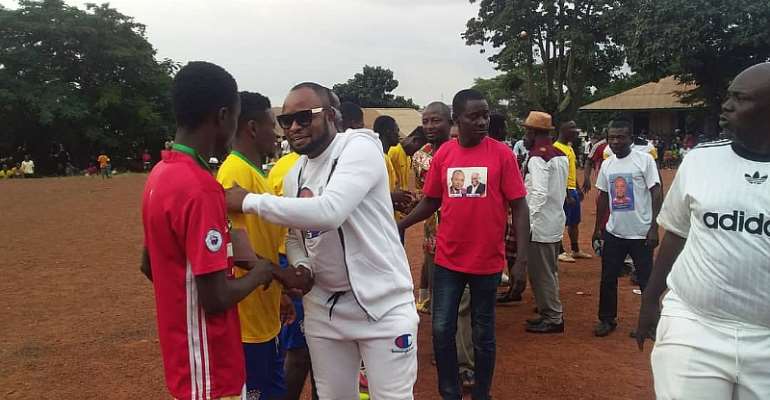 The Manhyia North constituency was charged on Monday as thousands of children, youth and the aged thronged the Division school park at Krofrom to support their favorite football teams.
The gala reignited the healthy rivalry between various communities in the Manhyia North constituency and offered the people another opportunity to meet their legislator face to face.
The sixth edition of the MP's cup, a football competition organized by the Member of Parliament Collins Owusu Amankwah was not only to unify the constituency but to harness great but hidden talents in his area.
Giving the opening remarks, Hon Collins Owusu Amankwah reiterated his commitment to harnessing both natural and human resource potentials in the constituency for development.
Recounting how successful the gala competitions have been over the years, the Manhyia North MP revealed plans of going a step further to assist talented footballers to watch high rated football matches to enrich their experience about the game.
Beginning from this gala, the Most Valuable Player would be sponsored to watch such games. Therefore, the MVP for the competition popularly known as Dyballa, from the Yennyawoso team would have the chance to watch the 2020 world cup in Qatar with full sponsorship from the MP.
Hon Owusu Amankwah also took the opportunity to invite football scouts and coaches in and around the country to join their gala next time
''My aim as a legislator in this constituency is to ensure that I harness raw talents and develop them to become useful human beings for this community, their families and the country as a whole'', Hon Amankwah stressed.
PARTICIPATING TEAMS
Eight teams from various parts of the constituency participated in the MP's cup gala.
The eight are Krofrom East, Krofrom West, Yenyawoso, Moshie Zongo, Buokrom Proper, Buokrom Estate, Dote/Query and Duase.
Even though the team from Yenyawoso showed great talent,
the team from Dote-Quarry emerged tops winning a keenly played final match with Yenyawoso.
The Dote-Quarry team took home a fabulous trophy, cash of GHC 1000.00, set of jerseys, football, and sets of fluorescent tubes and streetlights.
For placing second, the MP's team from Yennyawoso got a cash prize of GHC 500.00, a set of jerseys, football and some sets of streetlights.
The third-placed team, Buokrom Estate got GHC 300.00, a football and a set of football jerseys as their prize while Duase got 200gh in addition as well as a football for placing fourth.
All participating teams received cash of GH400.