Adongo Threatens To Sue BoG Over Non-Compliance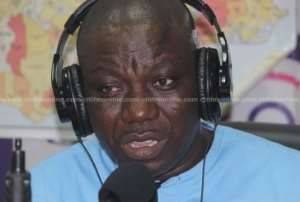 Isaac Adongo, the Member of Parliament for Bolgatanga Central, has threatened to sue the Bank of Ghana (BoG) over what he called non-compliance with its own laws.
In the letter to the Attorney General written by his lawyers and sighted by citinewsroom.com, Mr. Adongo suggested that it was ironical for the Bank of Ghana to clean up the financial sector with its formulated law but "[the BoG] has itself fallen foul of its obligations under the Bank of Ghana Act."
The lawyers referenced section 53 of the Bank of Ghana Act which requires the BoG to submit a report to Parliament once every six months on all foreign exchange received and payment and transfers outside Ghana, the conduct of activities under its mandate and any other relevant functions.
But Mr. Adongo stated that "the Bank of Ghana has either failed and or neglected to comply with this statutory reporting requirement and is therefore in clear breach of the Bank of Ghana Act."
"In the circumstances, our client instructs us to serve notice, which we hereby do, that he intends to proceed to court to compel the Bank of Ghana to comply within the law within one month of receipt of this letter by your office."
Mr. Adongo had penned an article on this issue where he called the BoG "a lawless entity."
He said the Central Bank was setting bad examples for corporate governance in the financial sector.
"You will recall that by May 2018, BoG was in breach of its obligation to publish its audited financial statements by 31st March. I subsequently drew attention to this breach and it was subsequently rectified."
In that article, he was questioning the source of $800 million the BoG was to use to shore up the cedi which was fast depreciating at the time.
The MP urged the BoG to "comply with its own obligations to Parliament and answer for its dwindling reserves and the deteriorating health of the cedi."
---citinewsroom