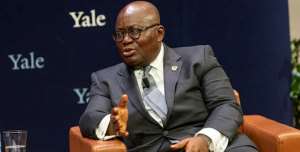 Time will tell if Nana Akufo Addo can make life better for common Ghanaians. Photo credit: media Ghana
Have you ever wondered over the reason Africa is plagued by immense poverty, political unrest, corruption, and violence, yet these problems are less in Europe?
Again, why is that the continent of Africa breeds armed robbers, yet the news about armed robbery doesn't appear at all in European newspapers?
In all African politics, including Ghana, after Kwame Nkrumah, the political foundation shifted in favour of rich people, including politicians, while in Europe, the foundation has been established for low-income people. Thus, both low-income people and the rich equally live happy lives. The reason political events in Africa are rare in Europe.
Unlike Africa, European low-income worker interested in a car can easily purchase it without any problem. For example, a cleaner earning 1,400 Euros a month, can easily purchase a new car at 15,000 Euros and pay 250 per month for 60 months, which is 5 years. There is no such opportunity for a low-income Ghanaian.
All that European low-income worker needs is the contract as a worker, to pay a little advance and gets his car or his bank assists him with a loan to purchase it while he pays the bank.
As a matter of fact, European politicians have already planned a comfortable life for a child right in his mother's womb before the child is born.
That's the reason the Belgian government assists a pregnant mother between 750 and 850 Euros free, to help the mother and after the child is born, they will be given financial assistance up to a certain age.
Daily life amenities, such as low affordable houses, have been provided throughout the cities. Prices of food, which usually becomes a problem in Africa is not an issue Europeans worry about because the prices of food are cheap.
Since in African politics, low-income workers are never taken into consideration, the common man that hasn't such an opportunity suffers, leading to political unrest like what we are witnessing in Ghana today.
Apart from the extravagant lifestyle of politicians, which is breeding armed robbery, hard living and lack of employment in Ghana, have also forced many Ghanaians to collaborate with foreigners to be armed robbers because they think it's necessary to be armed robbers since they have no access to government coffers.
Unfortunately, armed robbers in Ghana don't target the corrupt politicians, instead, the victims are common Ghanaians who struggled in their entire lives to own a little property.
Africans understand that things are different, taking Europe into consideration, therefore, things will improve gradually, but how long will they continue to live in such hard living conditions if the continent has enough to provide them with a better life?
Africa, is not a poor continent, therefore, until the leaders provide a better life for the suffering masses, they will be considered as failures. Yes, African leaders have failed the entire continent and the people because of selfishness, greed, corruption, and incompetence.
Analyzing the political situation in Africa or comparing African standard of politics to the European, it quickly gives one an answer that African leaders have failed. No matter how they brag of doing magic on the continent, they have still failed miserably because common Ghanaians are suffering, while no common or low-income European suffers.
If every low-income worker in Africa, could live in comfort like a low-income worker in Europe, why would they cry for their voice to be heard? Why would there be political unrest? Since low-income people in Africa can't afford to live a worthy life like real human beings, there has never been peace in African politics.
An African leader can build dams, a Cathedral, and fight against corruption, etc, however, if the common man who dwells in a poor economy, can't afford to buy anything including food, that leader must consider himself a failure.
There are a lot of things African leaders can learn from European leaders to make Africa a better continent because they lack intelligence and competence.
The target of Africa by America and Western Europeans countries is a piece of evidence that the content always has bonafide rich resources. African leaders must wisely utilize those resources to make life better for the common man.