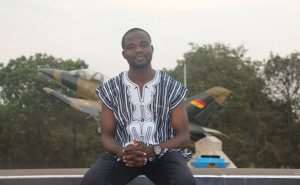 Reporting nothing but the truth and standing for nothing but the truth, come what may, is the hallmark of true journalist.
I believe journalist take an oath, either during induction or graduation at the school of journalism, to stand for the truth at all times. And for journalist like Jamal Khashoggi who was assassinated for standing for the truth, and the most recent case in point is the assassination of Mina Mangal in Afghanistan, they did just that, standing by the truth even at the peril of their lives.
So what is Manasseh Azuri Awuni running away from or seeking police protection for? He must know that these are the perils or hazards that come with the job of a journalist.
Like many nationalist and human rights activist or freedom fighters , they pursue in what they believe in, having in mind that they can be assassinated at any time, yet they still pursue what they believe in and no amount of gagging of hushing can keep them down.
Yet in the case of Manasseh he has recoiled into a cocoon and we only hear news about him from his Lawyer Samson Lardi Ayenini and sometimes from his employer JOY FM, but for Manasseh, his voice and his pen have been silenced.
At the time many Ghanaians feel press freedom in Ghana is under attack with the closure of Radio Gold , Radio XYZ and a boycott by government officials or NPP party communicators to JOY FM programs ( a case in point is JOY News File) , this is the time the voices of many a journalist like Manasseh Azuri Awuni´s should shout the loudest. But what do we see, they are silenced and they abscond from the country to seek refuge and only to return and live under police protection, and are silent for how long? only God knows.
Ghanaians have survived the period of the culture of silence and during this period, we could count the number of radio and television stations and news papers in Ghana, yet activist like President Nana Addo Dankwa Akuffo Addo, Kweku Baako Jnr and Kwesi Pratt continued to fight for press freedom even at the peril of their lives until the iron curtain was lifted and there is media plurality in Ghana today.
It is more real today that Ahmad Suale was assassinated for reasons linked to the work he has did. Yes Ahmad will forever be immortalized if not in brick and stone at the institute of journalism, and then he will be immortalized in the hearts of those of us who believe in standing for the truth.
Literally, Manasseh Azuri Awuri and Edward Adeti should not die an unnecessary death for the work they are doing or they have done, but they should not be silenced just because someone has threatened to kill them. Kowtowing to such threats and pressure is a sign that our journalist not only Manasseh Azuri Awuri and Edward Adeti do not believe in what they stand for r believe in.
With the support of the Ghana journalist association and think-tanks like IMANI and the Media Foundation of West Africa MFWA, pressure should be brought to bear on the government of the day to protect the lives of journalist for the work they do.
Also the government of Ghana must do a lot to reassure journalist and the people of Ghana that they believe in the rule of law at a time that Ghana is lowly ranked for press freedom in the world.
But to journalist like Manasseh Azuri Awuri , Edward Adeti and many other journalist who have received death threats for the work they do, continue to do what you believe in , even at the peril of your lives. After all what will it profit a man to gain the world and loose his soul, otherwise, what will it profit a journalist to remain silent for evil and tyranny to prevail.
By Philip Guribie
[email protected]