Ghana topples South Africa as continents leading gold producer. How does it benefit Ghana and mining communities?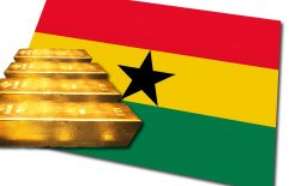 In South Africa, AngloGold Ashanti Ltd plans to sell its last South African mine. And in Ghana, the media is agog at the news that Ghana has over taken South Africa as the continent´s leading gold producer.
A decade or two ago, Ashanti Gold Fields was one of the biggest mining companies in the world until the fall in gold prices when it lost this position, and transformed as AngloGold Ashanti.
Obviously the dividends that Ashanti Goldfields used to pay to the government when it was a Ghanaian company and a world leading company cannot be the same dividend that Anglo Gold Ashanti is paying today.
With gold as the main foreign exchange earner, past and present governments have come to their wits end trying to widen the foreign revenue net in order to raise money for national and infrastructure development.
The most recent effort to raise money for development through the exchange a natural resource for infrastructure is the Sino Hydro Bauxite for Infrastructure barter agreement which our Senior Minister Osafo Marfo tried to explain and ended up courting ridicule for himself and government for letting loose Aisha Huang a known galamsey queen.
Even though Ghana is endowed with natural resources, we are yet to make good meaning of these resources to reflect in national and infrastructure development. Gold and other resources from North to South are under Chinese scavenger attack, and we are left to deal with the environmental and social problems that come with formal and informal mining of gold and the other resources. Yet we are elated to be tagged the continent´s leading producer of Gold, when our forests are damaged, rivers polluted, our communities are up in arms with galamsey operators; both Chinese and locals, and the cost to restore our rivers and forest far outweigh the benefits the tag as Africa´s leading gold producer.
AngloGold Ashanti, Newmont Gold Corp may now be producing more ounces in Ghana and as result should be paying more taxes and at a good time, should pay a windfall tax to the government.
However, trying to compare the revenues these companies earn and the tax they pay to government, one would wonder why these companies that have contributed to Ghana making the headlines as the continent´s leading gold producer, should not be doing more in Ghana with their money, just as they have done over the years to build economic powerhouses like Johannesburg etc.
AngloGold Ashanti and Newmont Gold Corp´s corporate social responsibility in the communities where they operate is nothing compared to what they have contributed to related and unrelated businesses in South Africa and the USA.
Mining communities that have been host to many mining companies will continue to lose out until a conscious effort is made by government for these companies to contribute not only in building schools and homes, in the form of corporate social responsibility after relocating people from their own lands to pave way for mining. In addition they should be made to pay towards the building of roads and other infrastructure they use leading to their host community or in their host community which in actual fact were built by Ghanaian tax payers.
The value these companies gain through the use of our already poor and dilapidated infrastructure, which they met in a somehow good shape, but have further been degraded as a result of the use of their heavy machines, far outweigh what they give back in corporate taxes, capital gain taxes or rarely in windfall taxes.
One can go to Obuasi, Tarkwa and other mining communities and you would see that these towns cannot be compared to Johannesburg or any of the cities in Australia that were built using money from mining , although these world class cities have been mining gold for almost the years as Obuasi, but their development are different. Most of the regions that host mining companies have bad roads, even though they are blessed with all the gold.
As a panacea for Ghana not to be short changed by foreigners and foreign companies exploiting our natural resources to our total disadvantage, the government should impose a US$ 1000 ( I mean one thousand United States dollars ) non refundable infrastructure levy on any Chinese entering Ghana for mining or any other purpose and without paying the levy, entry should be denied. And the proceeds of the levy should be used towards financing the Ghana Infrastructure fund.
Government should also evoke an executive instrument (EI) or parliament should promulgate a law or legislative instrument (LI) to empower assemblies in host mining communities, to enable them draw a development plan with mining companies and the plan should be funded and implemented by the companies for the number of years they would mine in the community.
Until this is done, Ghana and Ghanaians will continue to tickle ourselves as the continent´s leading producer of gold, meanwhile we have nothing to show in terms of physical infrastructure development, whiles these mining giants continue to enrich themselves with our natural resources blessings.
By Philip Guribie