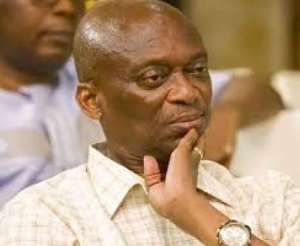 Kweku Baako
Some concerned youth of Nzema have taken a swipe at veteran journalist Abdul Malik Kweku Baako over his harsh comments against their traditional leader for commending former President John Mahama on the Atuabo Gas Plant. According to them, Mr Baako's description of Nana Adu Kwame, Divisional Chief of Nzema Akropong in the Ellembelle District of the Western Region, as "ignorant", is a barbaric display of disrespect for their chief. The statement, signed by the convener, Mr. Theophilus Nzema Kwaw, called on Mr. Baako to retract his comments and apologise unreservedly to their chief or face their wrath.
Below is the full statement
Journalist Abdul Malik Kweku Baako's theatrical reaction to the credit given to John Mahama by our chief for the construction of the Atuabo Gas Plant can only be summed up in two words: mischievous propaganda. Mr. Baako pretends he is only correcting a misrepresented fact, but the truth is, he only sought to twist a fact he believed could give some political advantage to John Mahama, as he embarks on an endeavour to reclaim the seat he lost to Akufo Addo in 2016.
In a speech to welcome the former president during his 'thank you' tour of the Ellembele Constituency on Saturday, 27th April 2019, Nana Adu Kwame said the people of Nzema were "eternally indebted" to John Mahama. He stressed that after a long period of deprivation and neglect by the NPP, the people of Nzema saw unprecedented infrastructural development under his administration, of which the Atuabo Gas infrastructure is only one example.
In a reaction, Mr. Baako dismissed our chief's assertion as "ignorance" and proceeded to catalogue what he calls "the contribution successive governments made" before the final implementation of the project. He then recounts a rigmarole of an MOU that was between GNPC and Samsung C&T Corporation before 2011 and other irrelevant references that provide nothing but a clever distraction from the topic of who actually constructed the Ghana Gas infrastructure..
We will come to the substance of who constructed the Ghana Gas plant in a moment but, you wonder when Mr. Baako learnt that many government projects have antecedents and every past government may have contributed to the success of their implementation. It is
curious that he has never intervened whenever the NPP claims credit for projects implemented by the NDC, nor has he ever cited the NDC's "contributions" to any project ever implemented by the NPP.
As President Akufo Addo claims credit for implementing free SHS, has Kweku Baako wondered where many of the students who were enrolled under the programme would have been accommodated, if John Mahama had not constructed his flagship E-blocks just in time? Would he argue that Akufo Addo did not implement free SHS, because John Mahama contributed school infrastructure?
Mr. Baako's hypocrisy and subtle propaganda comes to the fore when you consider that he has never tried to counter the New Patriotic Party's argument that former president Kufour "discovered" Ghana's oil. In that instance, he has never cited any "catalogue of events" that preceded the oil find under Kufour's government in 2007. Even if he ever did, he still agrees that president Kufour was the key architect of the oil find. Is it because that narrative suits his own purpose?
We could trace the history of the Atuabo Gas Plant to the country's first stint with oil and gas production in the Saltpond Field in 1978. We could go beyond that period to 1970, when Ghana started oil exploration in the Tano basin in the Western Region. We could even refer to events of 1896 under British colonial rule, when the first exploratory well was drilled in the Anlo Basin. Is that how far we want to go just to tell the story of the Atuabo Gas Infrastructure?
The vague references Mr., Baako makes to the "vision and conceptualization" of the project, which he says include "some preliminary initiatives and actions", which he claims "predated the Mills Mahama Administration" further exposes his intent as plain mischief aimed at confusing the public. Why doesn't he mention those "initiatives and actions" which he falsely concludes is "the factual sequence of events" leading to the construction of the Atuabo Gas Plant"?
It is undeniable that successive governments played critical roles along the journey to this point of Ghana's oil story. However, the fact of the matter is that the Ghana Gas Plant was neither constructed by J.J. Rawlings, J/A Kufour or J.E.A Mills. It was constructed by John Dramani Mahama and any attempt to deny or dispute it is either borne out of ignorance or pure mischief aimed at belittling his role in the creation of the Atuabo Gas industrial complex as it is today.
For the purpose of public education, the late president John Evans Atta Mills commissioned a "National Gas Development Task Force" in February 2011 to review and make appropriate recommendations for the realization of a national gas commercialization infrastructure system. This was after the Task Force had recommended the evacuation and treatment of gas associated with the Jubilee Field production, in order to prevent waste and forestall environmental risks.
Acting on that recommendation, president Mills sanctioned the establishment of an indigenous company to undertake the project. Ghana National Gas Company (Ghana Gas) was thus incorporated in July 2011 to give true expression to his government's emphasis on 'local content' in the oil and gas industry. In effect, Ghana Gas was set up purposely to build, own and operate infrastructure required to collect, process, transport and market Ghana's natural gas resources.
The project would have been implemented by president Mills, but for his untimely death in 2012, barely a year after the Ghana Gas Company had been established as a corporate entity and at a time his government was preparing feverishly for the Ghana Gas Infrastructure project to take-off. As the succeeding president by virtue of his position as Vice President, John Mahama took over from where Atta Mills left off and carried through the implementation to its final phase,
Kweku Baako is an NPP apologist, in spite of his false posture as a neutral "senior" journalist, an accolade commonly used by his admirers, but for which it remains unclear whether that is in reference to his age or his experience. His quick reaction to the Nana Adu Kwame was never a genuine attempt to correct a factual inaccuracy. It was a spirited attempt to discredit the chief and thereby nullify any political advantage he suspects John Mahama may have accrued from his compliments.
The obvious motive for Kweku Baako's reaction is his irritation that the chief gave John Mahama credit for a project of such national significance and went ahead to link it to a possible "one touch" victory for him in 2020. His energetic misinformation drive is just another example of the NPP's penchant for twisting truth and fact to discredit the NDC and present itself as the only party under which any meaningful development project was ever implemented in Ghana.
It is unfortunate that many unsuspecting Ghanaians, including students of history who need an accurate account of Ghana's development trail to form their knowledge base, might believe Kweku Baako's misrepresentations as facts. This is especially so because the falsehood is being peddled by someone they see as a neutral journalist, but who is an NPP propagandist in actual fact.
Kweku Baako has the right to belong to any political party of his choice, but he must eschew the shameless hypocrisy that dictates his analyses of events relating to the development of Ghana. For a man who wants to be regarded as a seasoned journalist by all, Mr. Baako would do a lot of good to his own credibility and political clout by being less biased and pretentious towards the NDC.
We are by this statement demanding an immediate retraction of the unsavoury comments Mr. Abdul Malik Kweku Baako made against Nana Adu Kwame as well as an unreserved unqualified apology by him to our venerated chief, failure ot whivh will compel us to advise ourselves on our next line of action.
Signed:
Theophilus Nzema Kwaw (Convener - 0243734496)
Bernard Ackah Kwofie (Coordinator - 0503781657)
Dominic Somiah Yankey (Publicist - 0246416339)
By Jonathan Egya Anyimah Efoli