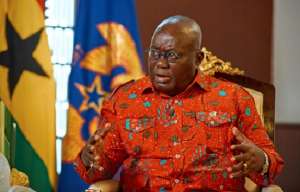 The serious blunders committed by Nana Akufo would have kicked him from power in any developed country
It's very fascinating to see thousands of Ghanaians, having a great interest in politics and even willing to die for any political party in the country. However, I would like to ask Ghanaians, what has inspired them to love and devote their precious time for political parties in Ghana in that way?
For the past three decades, I do not live in the country and therefore, follow the progress of my beloved Ghana via Ghana's news sites or while on a visit. Thus, I will neither disagree nor underestimate the opinions of those who claim that the NPP is doing far better than the NDC in the country or vice versa.
Many Ghanaians have publicly made the ex-Ghanaian leader, John Mahama, a subject of public ridicule. He has been insulted, despised, disgraced and called the most corruptible leader ever to lead Ghana. According to the Ghanaians that voted for the NPP leader, Nana Akufo, Mahama doesn't deserve a second chance.
I understand that the perception of Ghanaians at home is quite different from those living overseas. The reason many at home sometimes find it hard to accept the fact that foreign governments are able to make things tougher for them by the continuous destabilizing Africa's economy.
I wonder if those doubting Thomases have ever tried to find out the reason if America's economy is in crisis it affects the whole world, thus; it's very easy for the US government to make things both easy or hard for any African country.
Blunders By The Ghanaian leader Which Disqualifies Him To Be A Leader In Any Developed Country
The solid foundation of a country's flourishing and booming economy depends on the financial institutions engaged in business transactions in the country. Despite Belgium has thousands of banks in the country which have made the economy stronger and life easier for everyone, the country couldn't watch the collapse of one of their banks.
In the year 2012, Dexia Bank, one of Belgium's banks, after in deep crisis, was sold to the Belgian government at 4 billion Euro to save it from collapsing. Today, Dexia bank stands as Belfius bank. They have to save the bank from collapsing to avoid affecting the economy of the country which has been stable for years.
So where is all the noise coming from that the NPP has done or doing better than the NDC if five banks have collapsed under the administration of Nana Akufo Addo? And how can Ghana's economy be better after the collapse of five financial institutions as many want us to believe?
This is the reason the developed world never takes Africa seriously because we are a joke. Five banks can't collapse in any country in this world, for the government to boast that they are happy to be on the right track because the economy is good or improving.
The economy of Ghana is for only politicians in power because they know where they get their extra income. If Ghana's economy is truly strong as the government wants to convince Ghanaians, that should be enough to save the banks from collapsing.
I don't like to repeat the past but another fact which would have cost or forced Nana Akufo Addo to step down in any developed country as a president is the Nyantakyi's issue. Why did Nyantakyi say "he had the president in his pocket?" That means the president is involved in the football corruption scandal.
In every developed country, if one commits a crime, the person needs to be punished. So why did Nana Akufo Addo set Nyantakyi free? This is not a mistake but an obstruction of justice by a head of state. In any advanced country, Nana has no chance to continue serving the country, let alone allowed to serve a second term.
Akufo Addo wants to play smart but not too clever to acknowledge the fact that appointing Mr. Martin Amidu, the Special Prosecutor, to deceive Ghanaians that he is ready to fight corruption, is enough to affect him to step down, assuming Ghana is a developed country.
Ghana, like most African countries, has a high rate of unemployment, poor medical facilities - some hospitals lack ambulance and beds for the sick, poor sanitation, poor drainage, and unhealthy environments, breeding diseases, such as malaria.
Why would any serious president ignore such crucial issues without a second thought to demolish a place occupied by people to give room for a Cathedral project? Just like always, Nana Akufo Addo is lucky enough to escape this grave blunder because it occurred in a place called Ghana, in Africa.
However, the truth which many will find it hard to swallow is that the bad decisions often made by African leaders and the immense poverty on the continent despite how rich Africa is, portray Africans as people without intelligence but that's not true. Africans are never stupid.
If African leaders will think of those who cast their votes for them to occupy their positions and put corruption aside and work efficiently, Africa would have reached far than other continents because the continent is rich, not poor.
These are some of the reasons many Africans overseas have nothing to do with politics at home because politics in Africa continue to be a chronic disgrace to the black man.