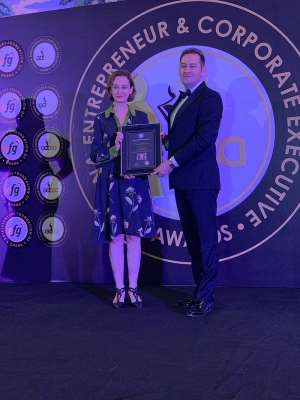 Volkan Buyukbicer receiving the award
The Chief Executive of Karpowership Ghana Company limited Volkan Buyukbicer has been adjudged the Outstanding Power and Energy CEO of the year at the Ghana Entrepreneurs Awards.
Mr Buyukbicer was recognized among many other industry executives, for his personal involvement in the outstanding achievements of the company in the year. These included corporate excellence, business sustainability, visionary and strategic leadership in the supply of uninterrupted and consistent electricity by the company.
Commenting on the award Mr Volkan Buyukbicer explained the successes chalked is due to the hard work and dedication of his team.
He said "I am continually inspired by our committed team who consistently ensure that we achieve the marked out strategic goals and successes for the company. This award is not just for me but the entire team who worked tirelessly all year round to ensure that we not only continuously supplied the needed power in the country but also positively impacted the socio-economic dynamics of the community within which we operate in and the sector as a whole. Undoubtedly, I believe that it is for this very reason that we are being recognized and honored today."
He added that Karpowership's operations are not only to meet the electricity demand of millions of people, but we also impact lives by providing employment opportunities for the local economy." We work towards "one world" and contribute to increasing global welfare," he stressed.
Mr Buyukbicer emphasized that the company is working assiduously with government agencies to relocate the Powership to the Sekondi Naval Base within the first half of the year.
"The relocation of the Powership is to enable the Powership switch to the use of the country indigenous gas, which is currently a cheaper source of fuel and will save the country more than US$240million on an annual basis," he intimated.
Karpowership Ghana Company Limited was last year adjudged the Best Independent Power Plant and the most strategic Project.