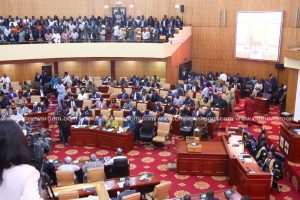 "The process where some taxes would be exempted from those who are going to benefit from 1D1F, is a blank request. I was in that meeting and we realized that it was just like asking us to sign a blank cheque. Yes the constitution mandates parliament to waive taxes…we want to know that this is how much the taxes will accumulate to and we are asking parliament to weigh that tax," the Deputy Ranking Member of the Trade and Industry Committee of Parliament, Yusif Sulemana has said.
The package waives taxes on machinery and equipment for operators under the policy and includes corporate tax exemption for five years.
The Minority's main argument against the package is that no amount is mentioned regarding the waivers which basically gives a blank cheque to the operators in terms of tax waivers but the Majority group insists all individual requests will be considered on a case by case basis and brought to Parliament.
An incentive package from the government for the operators of the One-district One-factory programme was earlier met with stiff opposition from Parliament's Trade and Industry Committee.
The package, which includes tax exemptions and tax holiday periods of up to five years, among other things, was under consideration at the committee level after it was presented to the House earlier.
The government had indicated that about 181 factories were at various stages of development, but Yusif Sulemana said the government must give details and exact amounts in taxes reliefs it is estimating to grant to operators of the factory.
---Citinewsroom