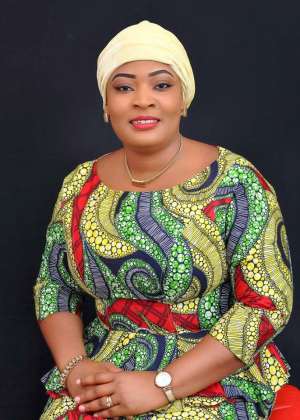 Hajia Abibata Shanni Mahama Zakariah - Deputy Chief Executive Officer (DCEO) of Microfinance and Small Loans Centre (MASLOC)
The Deputy Chief Executive Officer (DCEO) of the Microfinance and Small Loans Centre (MASLOC), Hajia Abibata Shanni Mahama Zakariah has said that the solution to the few challenges facing the Nation Builders Corps (NABCO) is not beyond the capabilities of the ruling Government.
According to her, implementation of every new policy initiative or programme was most likely to face some kind of challenges. However, the Government and for that matter the handlers of NABCO she insisted, have the competence to overcome them.
Hajia Abibata who was contributing to a live studio discussion on Citi TV breakfast daily on Wednesday May 1, 2019 said that NABCo as of now was not faced with any major challenges except that some few faceless individuals are trying to denigrate the programme.
She said the challenges are as a result of inaccurate data input by a few trainees which had slowed down the processes in relation to payment and placement.
The MASLOC Deputy CEO who is also an Aspiring Parliamentary Candidate for NPP in Yendi, maintained that the trainees of NABCO are very proud to be associated with the programme in spite of those challenges.
Hajia Abibata said some of the trainees were already in the public service before joining NABCO and they have had to undergo some processes to get their E-switch accounts rectified, hence the delay in receiving their allowances.
She mounted a spirited defence for NABCO when Madam Helen Ntoso, NDC Member of Parliament for Krachi West who was also a panelist on the show tried to downplay the competence of the government in managing the programme (NABCO).
Hajia Abibata emphasized that "even in the midst of the challenges, it's a big plus for the NPP government to introduce NABCO for the young unemployed graduates who had no hope of employment before now.
Saying, "If you ask me I will say it is better to have a job and your salary is delayed for a few months than not have at all".
She confidently assured that no matter what happens, the outstanding salaries will be released to the beneficiaries, and thus appealed to them to exercise a little restraint.