How Twice Obama Betrayed Africa And Had Qaddafi Killed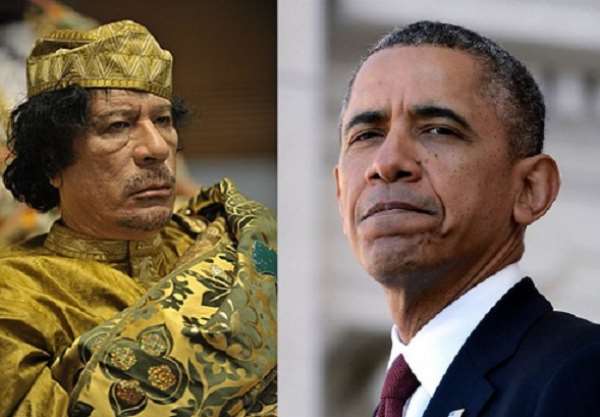 Muammar Qaddafi and Barack Obama
In reality, those that lack vision and allergic to reading, everything that glitters to them is gold and at the same time, they see the ex-American president, Barack Obama, a great leader, probably being the first black president in the political history of America.
However, not everyone is convinced that Obama was a good leader because of the clandestine crime of biological weapon Ebola which hit Sierra Leone, Guinea, and Liberia, under his administration in 2014. The respect for Obama diminished after the Ebola outbreak.
In every part of the world, including the United States of America, elites don't go to jail for the crimes they commit, that's the reason George W. Bush is free today, after lying, attacking and killing the Iraqis without finding any weapons of mass destruction in Iraq.
That's is also the reason today Barack Obama is free after purposely triggering Ebola virus in West Africa to continue the HIV/AIDS: THE US GOVERNMENT BIO-WEAPONS PROJECT FOR GLOBAL DEPOPULATION.
After visiting the Dutch scientist, Johan Van Dongen and the German doctor, Wolff Geisler, I have written many articles revealing the role Obama played in the Ebola epidemic in West Africa.
However, this time, I am not going to write about Obama's involvement in the Ebola which killed thousands of people in West Africa but reveal how Obama betrayed Africa twice and had Qaddafi killed.
On October 20, 2011, the day when Libyan rebels found Colonel Muammar Qaddafi hiding in an old drainage pipe, pulled him out of the shelter and killed him, President Barack Obama convened a press conference in the White House Rose Garden, at which he said: "We reached our goals."
Hillary Clinton, who was then secretary of state at the time, joked in a conversation with journalists: "We came, we saw, he died." Back in the spring of the same year, when the United States only joined the NATO air operation against Libya, the White House insisted that it did not set itself the task of changing the regime.
That is what convinced Russia not to impose a veto on a UN Security Council resolution allowing it to take "all the necessary measures" to protect the Libyans from their own ruler.
Such a change of goals enraged Moscow, but Obama stressed in his speech that "faced with the threat of massive bloodshed and listening to the calls of the Libyan people, the United States, together with friends and allies, stopped the forces of Qaddafi".
Now that America has done its job, Libyans can create a full-fledged democracy, the president said. "Now the power of American leadership is visible throughout the world.
We beat out the leaders of al-Qaeda, and we are moving towards victory over it. We are winding up the Iraq war, and we are carrying out reforms in Afghanistan," he added.
A few years after Qaddafi was killed, Libya is in complete ruins, completely devastated by military operations. Meanwhile, Obama came to power, promising to end the senseless war in Iraq and in the future to avoid such adventures.
There is no country on earth which leader gave many benefits to its citizens than Muammar Qaddafi. Europe and America wouldn't like to see the progress of the African continent, therefore, destroyed Libya. There is no continent on earth which has suffered such a great deal than Africa.
Yet, African leaders roll out the red carpet for the same criminals when they visit Africa because of financial assistance they often get for those foreign powers. On September 10, 2018, I wrote "Why Obama Should Be Banned From Coming To Africa,"
ModernGhana reference:
https://www.modernghana.com/news/881097/why-obama-should-be-banned-from-coming-to-africa.html
Many believe that Martin Luther King's dream, reflects on Obama, but I say that LUTHER KING JR'S DREAM DOESN'T REFLECT ON OBAMA because there will be a true African-American, as the president of the United States of America, after Obama. This may happen before or after my death.
Many African-Americans are completely disappointed with Obama and some even regret jubilating for such a man. Obama indeed is a bad leader similar to most of the American leaders.
Now you will understand why Obama has lost respect in the eyes of many people around the globe. He is a betrayer and a killer.