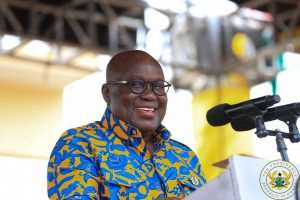 President Akufo Addo has indicated that the revival of the country's railway sector is a priority of his administration.
Nana Akufo Addo said fixing the railway system was the surest way of dealing with Ghana's transportation challenges.
Speaking at a meeting with officials of Sky Train Consortium after signing an MOU with the South African company, Nana Akufo Addo said Ghanaians railway system needs to be fixed.
After independence our infrastructure is almost incomplete, "it has become a priority of our government to rehabilitate, revive and expand, and get us a railway infrastructure that is fit for purpose."
"We now know that this is the most efficient way. What is exciting about this project is that it is a very good example of intra-Africa co-operation. It is Ghana-South Africa co-operation, meeting and coming together to deal with the problem of urbanization, which is facing all our countries", he added.
Ghana signs an agreement with South African firm for Accra sky train project
The government on Thursday signed an agreement with a South African group, Africa Investment (Ai) SkyTrain Consortium, for the construction of the Accra Sky Train Project.
Railways Development Minister, Mr. Joe Ghartey, signed the agreement for Ghana on the sidelines of the Africa Investment Forum in Johannesburg, South Africa.
He emphasized that the Sky Train Project was the solution to the ever-increasing road traffic congestion in Accra, with its detrimental effects on economic activity, pollution and the quality of life.
"There is confidence in the project. The promoters (Ai SkyTrain Consortium) are very serious, and that is why we invited the President, himself, to witness the signing. This should assure the investors that Government is solidly behind it. The economics of this project are also good. We are very excited about the prospects," he said.
About the project
The African Investment SkyTrain Consortium is made up Wilson Bayly Holmes, a construction engineering company in South Africa; BUNENGI Group, a project development company focused on developing projects in infrastructure; and Ai Capital, the investment and financing arm of the Ai Group, one of the most in influential international investment banking advisory groups focused on Africa.