Kofi Annan Back To His Roots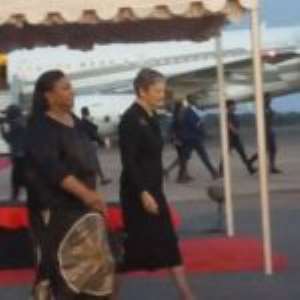 The mortal remains of the late former United Nations (UN) Secretary General, Mr Kofi Annan, was received by a Ghanaian delegation led by the President, Nana Addo Dankwa Akufo-Addo, yesterday from Geneva, Switzerland.
Clad in the colours of the UN, Mr Kofi Annan's casket arrived at the Jubilee Lounge of the Kotoka International Airport (KIA) at 17:00GMT, accompanied by his wife, Nane Lagergren, the children, and some UN officials.
Following protocol, President Akufo-Addo, his Vice, Dr Bawumia, the Chief of Staff, Fremah Osei-Opare, Senior Minister Yaw Osafo Maafo, as well as other government officials, moved to welcome the immediate family of the deceased from the flight.
Libation was pour as traditional prayer, as some traditional rulers of the family were present to welcome their son, a ceremony which was covered by both local and international media.
Thereafter, a Christian prayer was said before the casket was brought from the apron of the runway in front of the Jubilee Lounge of the KIA, and placed on a catafalque by personnel of the Ghana Armed Forces.
Soon after that, the UN colours covering the casket was changed into the red, gold, and green with the black star, signifying that Mr Kofi Annan had arrived in the land of his birth, Ghana.
The remains have since been laid in state at the Accra International Conference Centre (AICC), for public viewing and burial service, starting today.
According to a statement from the Planning Committee, filling past and paying of last respects by members of the general public is today, Tuesday September 11, 2018, between 10am and 4pm.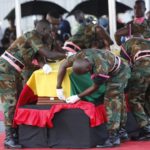 Tomorrow, Wednesday September 12, 2018 will be for dignitaries, including recognised groups, chiefs, members of Parliament, and ministers of state.
Thursday September 13, 2018, would be the burial service and final interment, commencing at 9am at the AICC.
The statement further noted that the service would be attended by UN officials, heads of state, diplomatic delegations, and the general public.
Meanwhile, there would be a private burial at midday, Thursday, September 13 2018, at the Military Cemetery, with full military honours and a 17 gun salute, the statement announced.
Mr Kofi Annan died in Geneva, Switzerland, on August 18 this year after a short illness.