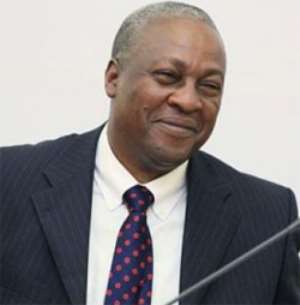 Folks, what is unfolding under Akufo-Addo's watch makes me wonder a lot about the justification for the NPP's anti-Mahama political rhetoric, couched in the single word "incompetence", that seemed to hit Mahama hard out of office.
No doubt, Akufo-Addo was the first to characterize both Atta Mills and Mahama in such a pejorative manner. He is on record as having labelled Mills as "Professor D0 Little" and Mahama as "incompetent", which caught on fast and well with the NPP electioneering armada.
Much of what Akufo-Addo led his campaign armada to point to as evidence of Mahama's incompetence are still prominent in his own governance style, if not worse and more pronounced.
Be it in terms of policy and how it is implemented or any move to change the status quo ante, all that has come from Akufo-Addo is either a replica of the very modus operandi that he had condemned while in opposition or a fumbling and bumbling of strategies for moving Ghana forward. Nothing new is coming from Akufo-Addo to either prove him right in damning Mahama as "incompetent" or in allaying fears that Ghana is doomed for as long as its politicians don't initiate problem-solving strategies.
The verdict? Akufo-Addo isn't any better than Mahama or Mills (or all our previous leaders). Everything he touches turns into brass or wood. There is confusion all over the place. No day passes by without one scandal or the other rocking his administration. Public trust and confidence in him are quickly dissipating, although he continues to portray himself as outdoing his predecessors.
I don't want to focus on specifics as such; but the fate of his free SHS programme is at issue. The confusion surrounding it is thickening, especially with the introduction of the vacuous "Double Track" system that has no head or tail for us to see it as feasible and as the best way to improve education at the secondary school level. Too much inconsistency and lack of faith in the very agenda that they cooked up to implement just for political expediency. Not good for Ghana.
At all levels, nothing is working well. As to the innumerable electoral campaign promises, only time will scare Akufo-Addo as Election 2020 draws near.
The political rhetoric that paved the way for him to be in power is the very double-sided sword that will cut him out. He hasn't proved to be more competent than Mahama and his predecessors.
Focusing on Mahama alone, one may ask: Upon all that Akufo-Addo had said to bad-mouth Mahama as incompetent, what has he done to undo the impact of Mahama's incompetence on Ghana? I don't see anything done that has reversed instances of Mahama's incompetence.
At least, if we want to do a comparative analysis of the situation in the United States and Ghana that put Donald Trump and Akufo-Addo in power at Election 2016, we can see how Trump has taken practical action to reverse the Obama policies and measures that he condemned on his electioneering campaign rounds.
Trump has caused Obamacare to be repealed; he has withdrawn the United States from major international agreements; he has pulled the US out of the Iran nuclear deal; he has forced Mexico and Canada to reconsider the terms of NAFTA; he has abolished the Diversity Visa Lottery; and he has moved to implement policies that undermine what had happened earlier regarding immigration.
These are major instances to prove how he could do things for the people to know and feel his impact. Whether his moves are profitable or not is in the womb of time; but, at least, he has done what registers as a proof of "incompetence" on the part of his predecessor(s).
What has Akufo-Addo done in the Ghanaian situation? Nothing new except knee-jerk measures that he can't muster up enough moral strength or courage to enforce. He is busily criss-crossing the globe, looking for loans to help him fulfill his electoral campaign promises. Did he and Bawumia not damn Mahama for seeking loans?
Nothing is working. Taxes are being imposed in an arm-twisting and dishonest manner; utility bills are rising; food is scarce on the market; everything is messed up.
State institutions aren't being reformed to cope with mounting pressure to help grow our democracy; everything is policitized; and despondency is setting in fast among the people. Why so?
If for nothing at all, Ghana wasn't grinding to a halt by the time Mahama handed over to Akufo-Addo. His focus on development projects to improve living standards gave Ghanaians projects that are clear evidence of his accomplishments. Those that he couldn't complete have either been abandoned by Akufo-Addo or are pushed to the back burner (See, for example: https://www.ghanaweb.com/GhanaHomePage/NewsArchive/We-re-not-seeing-the-change-we-voted-for-Eastern-corridor-road-users-683530).
From what has unfolded thus far, just under 2 years in office, Akufo-Addo doesn't come across as competent. So, where is the justification for his leading the NPP armada to insult Mahama as incompetent? I pause for answers.
I shall return…
By Dr. Michael J.K. Bokor
(E-mail: [email protected] )
Monday, September 10, 2018