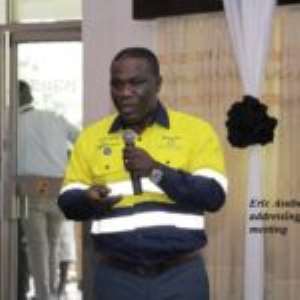 A major meeting by the management Of AngloGold Ashanti Obuasi mine to roll out the re-development programme of the company to stakeholders has taken place at Obuasi.
The Managing Director of AngloGold Ashanti Obuasi mine, Mr. Eric Asubonteng, said all documentations on the start of the Mine have been completed.
He announced at a Town Hall meeting of stakeholders that the company had been given all the needed documents by the government, as well as environmental permits to operate, and that, technically, the mine is at the implementation stage.
Mr. Asubonteng was silent on the definite time the opening of the mine would take place, but gave the assurance that the government will launch it at the appropriate time.
"We are preparing the underground area awaiting the mining contractor to join, and there are other works happening at the surface as well. It is the prime aim of the company that by the next three years, the mine will be predominantly run by Ghanaians, and, therefore, there is the need to get people trained, developed, and supported to take up the challenge," he said.
Mr. Asubonteng also mentioned that under a local employment procedure, concept, unskilled and semi-skilled jobs will be reserved for people who sit on the company's concession.
Touching on air transport, he said, in the future, the Obuasi airport will be opened up to the public. "We want to make the airport a community airport and not AGA airport, because we are all part of the community," he stated.
He also said plans were already in place to give some of the company's facilities to the Kwame Nkrumah University of Science and Technology (KNUST) to set up a University College in Obuasi.
He noted that the setting up of the university will mean a lot for the people of Obuasi, and called for continued discussions on the issue, so that the dream comes into reality.
To a question as to whether the company has a hand in the management of the AshGold Football Club, the Sustainability Manager of AngloGold Ashanti, Obuasi Mine, Nana Ampofo-Bekoe, said the club now is in the hands of a private investor, and that very soon the official launching of the new AshGold will take place.
At the Town Hall meeting were the Omanhene of Bekwai Traditional Area, Nana Osei Kwadwo Ababio, district chief executives and their co-ordinating directors, Adikrofo, queenmothers, assembly members, and other stakeholders in the company's catchment area.