Small-Scale Miners Call For Transparency In Vetting Process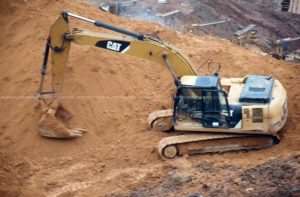 The Ghana National Association of Small-scale Miners wants the government to be transparent in the vetting of all small-scale miners in the country which begins today [Monday].
The exercise is part of a road-map that will lead to a lifting of the ban on all forms of small-scale mining.
It also forms part of efforts to sanitize the country's mining industry and ensure that persons engaged in the commercial activity do so in a responsible, environmentally-friendly and sustainable manner.
Speaking to Citi News, Godwin Armah, General Secretary of the Association of Small Scale Miners, said the government should not interfere in the process.
"What we are proposing is that it shouldn't be political. We shouldn't see it as a political venture where certain people will be favored, and others will not be favored. What we are looking for is small-scale mining and people who have genuine licenses are the people who are going to be vetted so they should go through."
"The documents say those who are vetted will be made to go back to work once they have gone through and have availed themselves," he stressed.
Mr. Armah believes, the vetting, when made free and fair, will make it easier to streamline the activities of miners.
"And the vetting, they have made it clear that we want to know where each person is put in the system and ensure that they get the various ID cards so that when they have their signage they will be able to identify a legal operator from a person who has not gone for the requisite licenses."
Gov't begins vetting of small-scale miners today
The government has from today [Monday] begun the vetting of all small-scale miners in the country.
The Ministry of Information in an earlier statement directed all registered artisanal and small-scale miners whose licenses were operational as at April 1, 2017, to submit all relevant documentation to the Inter-Ministerial Committee on Illegal Mining (IMCIM) Secretariat by post or in person before Friday, September 7, 2018.
The documents they are to present Mining License, Environmental Permit, Operating Permit, Certificate of Registration, Tax Identification Number, two copies of passport size photos, Birth Certificate, Passport or Voter's ID and current contact details.
Persons who pass the vetting will be cleared to return to the mines when the government eventually lifts its 2017 ban on all forms of small-scale mining activities.
Prof. Frimpong Boateng, Chairman of the Inter-Ministerial Task-force against illegal mining at a press briefing last month, said the outcome of the vetting process would influence the government's decision on the ban.
"If the vetting goes on well then we will know when exactly the ban will be lifted," he said.
–
By: Nii Larte Lartey/citinewsroom.com/Ghana