Chief Of Tema Commends Government For Postponement Of Closed Season Ban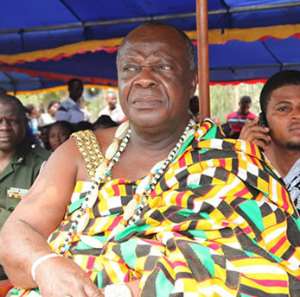 Tema, Aug 8, GNA - Nii Adjei Kraku II, Paramount Chief of Tema, has expressed gratitude to the government for postponing the intended one-month long fishing close season to 2019.
Nii Kraku noted that the postponement was timely as it would give ample time for the sensitization of stakeholders on the importance of a close fishing season.
He expressed his appreciation on Monday when Mr Ishmael Ashitey, Greater Accra Regional Minister, led officials of the Tema Metropolitan Assembly (TMA) to present some items to the Tema Traditional Council (TTC) towards this year's Homowo Celebration.
The postponement, which was announced some few days to the enforcement of the scheduled one-month ban which was to commence on August 7, this year, as a result of concerns raised by stakeholders, especially agitations among some fisher folks on the intended ban.
The Tema Paramount Chief urged the government to continue listening to the citizens and engage stakeholders before initiating and implementing policies.
Nii Kraku also appealed to the Ministry of Fisheries and the Fisheries Commission to take a cue from the agitations and properly plan series of sensitization programmes for fisher folks and traditional leaders on the benefits of a close season for at least six months before its implementation in 2019 to ensure that stakeholders understood and prepared well towards it.
Touching on revenue mobilization, he called on government and relevant authorities to register truck pushers and wheelbarrow boys and robe them into the tax net.
According to him, even though they were making lots of money, they were excluded from paying taxes while artisans such as seamstresses and hairdressers were been taxed monthly even though they earn less than the truck pushers.
He said just as taxis and commercial vehicles had recognized numbers, stations and unions, truck pushers must also be given one for easy monitoring and taxing.
Mr Felix Mensah Nii Anang-La, Tema Metropolitan Chief Executive, appealed to the TTC to help the Assembly sensitize residents on the need to pay property rates and business operating fees among other levies.
Mr Anang-La added that most residents in Tema Newtown run to the Council to complain about the revised rates instead of paying thus creating difficulties for revenue collection by officials of the Tema East sub-metro.
He reminded residents that the rates, bills and fees paid to the Assembly would enable them to get the needed revenue to provide developments and social amenities in the area announcing that a contract had been awarded for the construction of a bridge to link Tema Manhean to the Volta Aluminum Company (VALCO) area as well as the rehabilitation of all the roads in the area.
The TMA presented 50 boxes of bottled water, 20 cartons each of soft drinks and beer, three boxes of schnapps and an unspecified amount of money.
GNA